Mathri is a traditional North Indian style crispy cracker generally prepared and feasted upon during festivals like Diwali and Karwa Chauth. The trick to get the perfect not so hard and not so soft melt in the mouth crispy texture of methi mathri lies in the ingredients that goes into preparation of its dough and how it's deep fried. The firm dough prepared with semolina, maida, carom seeds, black peppercorns and ghee is the key to its taste and texture while Kasuri methi gives it a nice Punjabi flavor. Make it in a circular or triangle shape per your cooking skills and preference and enjoy it with tea, coffee or just simple assortment of
sweet, sour and hot chutneys
as a snack. With this recipe's step by step photos, tips and variations and serving ideas, making this salty and crispy snack at home is super easy.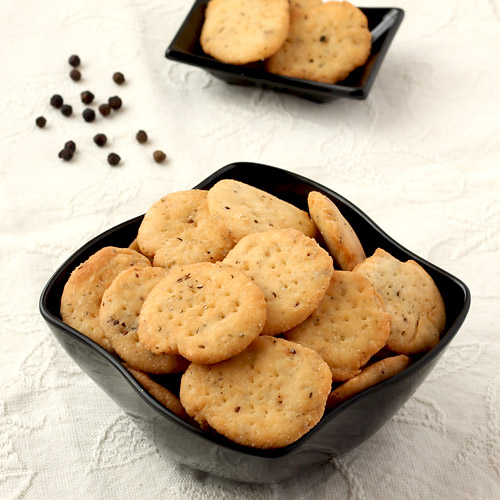 More Snacks Recipes
Preparation Time:
10 minutes
Ingredients:
1 cup Maida (all purpose flour)
1/4 cup Semolina (sooji or rava)
1/2 teaspoon Carom Seeds (ajwain)
1 teaspoon crushed Kasuri Methi (dried fenugreek leaves), optional
1/2 teaspoon crushed Black Peppercorns
3 tablespoons Ghee (clarified butter)
Oil or ghee, for deep frying
1/2 teaspoon or to taste Salt
1/3 cup + 1/2 tablespoon Water
Directions:
Take maida, semolina, carom seeds, kasuri methi, black peppercorns, 3-tablespoons ghee and 1/2 teaspoon salt in a bowl.

Mix all ingredients together using your fingers until mixture turns crumbly.

Add water in small incremental steps (1-2 tablespoons at a time, total water quantity required would be approx. 1/3 cup) and knead it into firm dough. It should be harder than paratha dough. It is not necessary to knead the dough until smooth surface. Add 1-2 teaspoons more water if required.

Cover it with muslin cloth and keep aside for 15-20 minutes. Knead the dough again for a minute and divide it into 24-26 equal portions. Place each portion on rolling board and slightly press it using your palm. Roll it out into round flat surface having ½-inch thickness and approx. 2-3 inches diameter using rolling pin. No need to make perfect round shaped flat puri.

Make 8-10 pricks on it using fork (this will help prevent puffing during deep frying). Make flattened circles from remaining dough balls in the same way.

Heat oil in a heavy based frying pan over medium flame. When oil is medium hot, add 4-5 rolled circles at a time into the hot oil and reduce flame to low. Deep fry them over low flame. When bottom surface turns light golden brown, flip it over to another side and deep-fry until another side turns golden brown and crisp. It will take around 5-7 minutes total to deep fry both sides. Lift them out of oil using slotted spoon, drain excess oil and transfer them over to a plate. (If possible, spread kitchen tissue on plate before placing mathris on it. This will help soak excess oil.)

Deep-fry remaining flattened circles in the same way. Cool them at room temperature and store methi ki mathari in an airtight container. Consume them within 10-15 days.
Tips and Variations:
To make triangular shaped mathri, roll each portion of dough into 4-5 inch diameter circle shape, then fold it on single side and again fold it on another side. (See photos given in plain triangle shaped paratha recipe.)
Be patient while deep frying because mathri takes more time to cook as it needs to be deep fried over low heat. If you deep fry over high flame then it will turn golden brown immediately but may remain uncooked from inside.
Do not over crowd while deep frying to allow them cook evenly.
Make sure that dough is not soft otherwise mathri will not turn crispy.
Kasuri methi is added to give the Punjabi touch to this crispy snack. You can also add 1/2 teaspoon cumin seeds and 1/2 teaspoon sesame seeds instead of kasuri methi and carom seeds for variation.
Taste:
 Salty and crunchy
Serving Ideas:
 Serve them with tea in the breakfast or with your favorite chutney as an evening snack.