Snacks are not strangers in every Indian's home when it's a festival time like diwali, holi, dussehra, etc. This step by step photo recipe of namak pare is not just about preparing traditional crispy deep fried snack from base ingredients like maida, semolina, ghee and salt. This recipe takes its taste profile to next level by adding garlic and basil paste to its dough for a fragrant riots of flavors. However, if you are a purist, read and follow note given below to prepare it in more traditional way by replacing garlic and basil with carom seeds.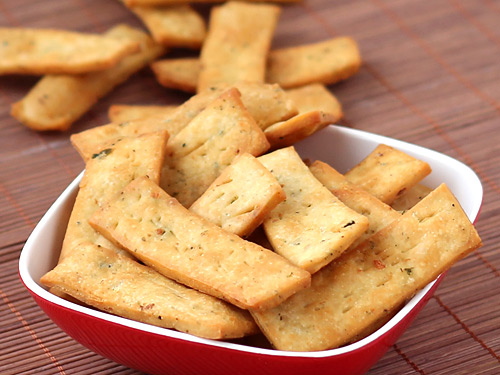 Preparation Time:
 15 minutes
Ingredients:
1 cup Maida (all purpose flour/plain flour)
2 tablespoons Rava (suji/ semolina)
1/4 teaspoon Black Pepper Powder
2 tablespoons Ghee
Oil, for deep frying
Salt
Water
For Paste:
7-8 Fresh Basil Leaves
4-5 Garlic Cloves, chopped
1 Green Chilli, seeded and chopped (optional)
Note:
Basil-garlic paste is optional; if you do not like its flavor then you can avoid it. Replace it with 1/2-teaspoon carom seeds (ajwain) while preparing dough in step-3.
Directions:
Add basil leaves, garlic and green chilli in a small jar of grinder.

Grind them until slightly smooth paste.

Sift maida in a large wide mouth bowl. Add semolina, black pepper powder, ghee, prepared garlic-basil paste and salt.

Mix them properly using your hand.

Add water as needed in small quantities (1-tablespoon at a time) and bind stiff dough (slightly stiffer than paratha dough). After that, knead it until smooth surface, about 2-minutes.

Divide it into 2-equal portions and give each portion a round shape. Take one portion and place it over rolling board.

Roll it out into approx 1/4 -inch thick circle having about 7-8 inch diameter. Cut its edges from all sides (top-bottom-left-right) with greased sharp knife and give it a square shape.

Now, cut it vertically into 1-inch wide strips with knife or pizza cutter. Cut them into halves by cutting it horizontally from the middle. Make multiple small sized long pricks using spoon top or knife (this is a must do step to make sure that it does not burst and perforate while frying).

Heat oil in a heavy based kadai over medium flame. When oil is medium hot (make sure it is not smoking hot), place 4-5 strips at a time and deep fry over low flame until light golden brown and crispy from both sides. Flip once in between to fry both the sides evenly. (If oil is too hot then it will get browned from outside quickly but remain uncooked inside)

Drain them with slotted spoon and transfer over paper napkin in a plate. Repeat the process for remaining strips. Heat the oil again over medium flame and then add next batch namak pare in oil for frying and fry them over low-medium flame. Cool them to a room temperature and store in an airtight container. Consume them within 2-weeks.

Enjoy crispy basil and garlic flavored namak para with tea or sweets of choice or by itself.
Tips and Variations:
Knead a stiff dough in step-5 and do not keep it idle for long time and to make crispy pare.
Ghee plays a significant role in final crispy-crunchy texture of namak pare. It brings melt-in-mouth texture but at the same time it also increases the calorie count. We have tried to make a balance between both in this recipe. However, you can add more of it while preparing dough to get desired mouth-feel and texture.
Do not deep fry them on high or medium flame otherwise they may remain soft and uncooked from inside.
You can also cut them into diamond shape instead of cutting them into wide strips.
Taste:
 Crispy and crunchy with basil and garlic flavor
Serving Ideas:
 Enjoy them on its own or with hot beverage like tea/coffee as evening snack. You can also serve them with choice of cold beverage in kid's party.