Besan Chilla, a protein rich nutritious pancake made from the gram flour(besan) is a popular snack from North Indian cuisine, which is also called pudla in Gujarat. This is a gluten free snack because gram flour (chickpea flour) is gluten free flour and it's the only flour used in this recipe. This chilla is the perfect breakfast food for busy mornings and for kids' lunchbox as it is not only healthy but also stomach filling and only requires 10-15 minutes. First, the batter is prepared by mixing the besan, tomato, onion, green chilli, coriander leaves and Indian spices with water and then round shaped pancakes made from that are shallow fried on tawa until crispy and light golden brown. It tastes delicious when served with tomato ketchup or green coriander chutney and a cup of tea in the afternoon or dinner. Follow the below given recipe of besan chillas with step by step photos to make it at home.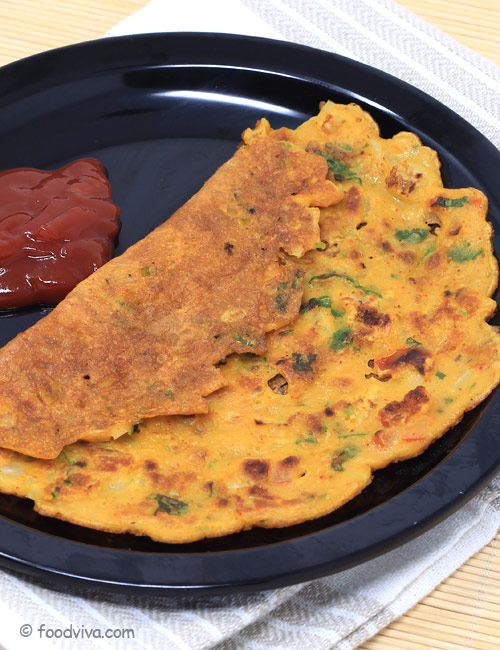 More Breakfast Recipes
Preparation Time:
5 minutes
Serves:
3 servings (6 cheela)
Ingredients:
1 cup Gram Flour (besan)
1/4 teaspoon Carom Seeds (ajwain), optional
1/2 teaspoon Red Chilli Powder or 1/4 teaspoon Black Pepper Powder
1 teaspoon Coriander Powder
1/4 teaspoon Turmeric Powder
Salt, to taste
1 medium Tomato, finely chopped(approx. 1/3 cup)
1 medium Onion, finely chopped(approx. 1/3 cup)
1 Green Chili, finely chopped
1/4 cup finely chopped Coriander Leaves
2/3 cup Water (or more up to 1 cup)
Oil, for shallow frying
Note:
Make sure that all vegetables are finely chopped to spread the chilla easily and evenly. Don't add green chilli or red chilli powder if you are making it for kids.
Directions:
Sift 1 cup gram flour(besan) in a large bowl. This step is optional but it prevents the lump formation.

Add 1/3 cup finely chopped tomato, 1/3 cup finely chopped onion, 1 finely chopped green chilli, 1/4 cup finely chopped coriander leaves.

Add 1/4 teaspoon carom seeds (ajwain), 1/2 teaspoon red chilli powder, 1 teaspoon coriander powder, 1/4 teaspoon turmeric powder and salt.

Mix well.

Add water little by little (2/3 cups or more or less as needed) and mix well to make a lump free batter having slightly thin pouring consistency (slightly thinner than dosa batter consistency). Taste the batter for the salt and add more if required.

Heat a non-stick dosa tawa or griddle over medium flame. Drizzle few drops of oil (or 1/2 teaspoon) over it and spread it. When tawa is medium hot, pour a ladleful of batter on the surface of tawa in the center and spread it gently using the backside of the ladle into a 5-6 inches diameter circle or lift the tawa and rotate it in a circular motion to spread the batter.

Drizzle 1-teaspoon oil around edges and cook over medium flame until bottom surface turns golden brown, for approx. 2-3 minutes.

Flip it gently using a spatula.

Cook the other side for approx. 1-2 minutes.

Transfer it to a plate. Make chillas from remaining batter by following the same process from step-4 to step-7. Serve hot chillas with coriander chutney and tomato ketchup in the breakfast or as a light evening dinner.
Tips and Variations:
Make sure that tawa is not very hot in step-6 else the batter will stick to the pan and it will be difficult to spread it evenly. If the tawa is very hot, then reduce the flame to low and cool it by sprinkling a few drops of water on the hot surface, wait until it evaporates and then spread the batter.
For variation, add 2-tablespoons grated carrot, 2-tablespoons finely chopped capsicum, 3-tablespoons chopped spinach or any grated vegetables to the batter.
If you are preparing this for kids, garnish hot cheela with grated cheese.
Taste:
 Salty and mild spicy
Serving Ideas:
 Serve it warm with tomato ketchup or green chutney as an afternoon snack. You can also serve it with a cup of tea or coffee as a teatime snack in the evening.