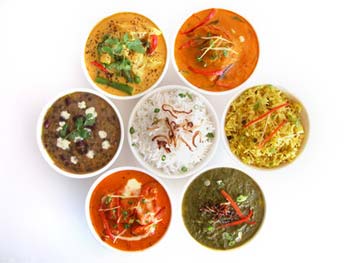 The melt in mouth texture of fully cooked chickpeas and appetizing aroma of perfectly blended spices makes chickpea curry prepared with this recipe simply irresistible. It uses white chickpeas (garbanzo beans) and tomatoes as main ingredients.
More Curry Recipes
Preparation Time:
10 minutes
Ingredients:
1 can (16 ounce) Chickpeas (Garbanzo Beans), drained and rinsed
1/4 teaspoon Ground Cinnamon (optional)
1 teaspoon Cayenne Pepper
1/2 teaspoon Ground Turmeric
1/2 teaspoon Ground Cumin
2 teaspoons Ground Coriander
1 medium Tomato, diced
1 small Onion (finely chopped)
1 teaspoon grated Ginger
4 cloves Garlic, minced
1 medium Green Pepper, seeded and chopped
2 tablespoons Vegetable Oil
3 tablespoons Fresh Coriander Leaves, chopped
1/4 cup Water
Salt
Directions:
Heat oil in a frying pan over medium heat for sautéing. Sauté chopped onions in it over low to medium heat until it turns light brown. Make sure that it does not burn.
Add grated ginger, chopped green pepper and minced garlic, sauté for approx 45 seconds.
Add ground turmeric, ground cumin, cayenne pepper and ground cinnamon, sauté for approx 30 seconds. Keep stirring continuously to prevent burning and sticking.
Add diced tomatoes, ground coriander and salt to taste. Stir and cook until tomatoes become soft (around 2 minutes). Add chickpeas and stir until all ingredients are well blended.
Add water and cook on medium heat for approx 5 minutes or until you get desired consistency of gravy. Stir in between occasionally to prevent sticking. While cooking, mash some of the chickpeas using a back of the spoon against the side of the pan to thicken up the gravy.
Turn off the heat and transfer cooked chickpea curry in a serving bowl and garnish with chopped coriander leaves.
Tips and Variations:
If you like more gravy, then add more water in step-5.
You can also use water of canned chickpea instead of plain water if you like its taste.
Experiment with recipe by adding boiled potatoes, carrot, beans or mushrooms to make a delicious variation with your favorites vegetable.
This Indian style curry tastes much better if allowed to set for 12 hours in refrigerator. It allows flavors of all spices to blend with each other and give it a mouth watering complex flavor.
Taste:
This recipe is derived from authentic Indian curry of chickpea and customized for American and British taste preference. However, it is still spicier than any other normal American or British preparation.
Serving Ideas:
Serve it with naan or pita bread and steamed rice. Because of its high nutritional values, it's good choice to serve with breads in the breakfast.