Are you tired of eating plain paratha? Then try onion paratha. This is not the usual onion stuffed paratha recipe but a lot easier and different recipe that makes equally tasty and delicious parathas. In this recipe, chopped onion, green chilli, coriander leaves and other spices are sautéed in oil and mixed in the dough itself and then paratha is shallow fried as with its other various varieties.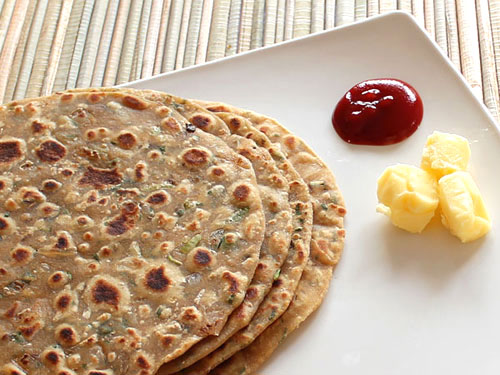 More Roti Paratha Recipes
Preparation Time:
10 minutes
Serves:
2 servings (6 pieces)
Ingredients:
1 cup (for dough) + 1/2 cup (for dusting) Wheat Flour
3/4 cup finely chopped Onion
1/4 teaspoon Cumin Seeds
2 Green Chillies, finely chopped
1/4 teaspoon Garam Masala Powder
1 teaspoon Coriander Powder
4 tablespoons finely chopped Coriander Leaves
4 teaspoons + shallow frying Oil
Salt
Directions:
Heat 1 teaspoon oil in a small pan over medium flame. When it is hot enough, add cumin seeds; when they start to crackle, add finely chopped onion and sauté until it turns light brown.

Add finely chopped green chilli, chopped coriander leaves, garam masala powder and coriander powder; mix well and turn off the flame. Let the sautéed onion mixture cool for 3-4 minutes.

Mix 1-cup wheat flour, 2-teaspoons oil, cooked onion mixture and salt in a medium bowl. Add water in small incremental quantities as required and knead a smooth dough (like chapati or roti dough).

Grease the surface of dough with 1 teaspoon oil. Cover it with a plate or a muslin cloth and let it rest at room temperature for 15 minutes. Divide dough into 6 equal parts and give each one a round shape like ball.

Take 1/2 cup dry wheat flour in a small plate. Take one dough ball, press it between your palms to convert it into a dough pattie. Coat it with dry wheat flour.

Put dough pattie on rolling board/roti making board (chakla) and roll it out using rolling pin into a raw paratha of approx. 6-7 inch diameter (like roti).

Place it on a hot tava/griddle and cook over medium flame. When tiny bubbles start to rise on the surface, flip it and reduce the flame to low. Spread 1/2 teaspoon oil over the surface and cook for approx 30-40 seconds.

Flip it again and spread 1/2 teaspoon oil. Press it with spatula so that bottom surface touches hot tawa and cook for 30-40 seconds over medium flame. Repeat flip, press, cook process until golden brown spots appear on both sides.

Transfer it to a plate. Follow the same process for remaining dough balls. Serve onion paratha with

dum aloo

or cucumber raita.
Tips and Variations:
If you are making onion paratha for kids, then excite them by making it in a triangular shape by following triangle paratha recipe.
Add 2 tablespoons chopped spring onion (in step-1) for exciting new taste.
Taste:
Soft and mild spicy with nice onion flavor.
Serving Ideas:
Serve it with
paneer bhurji
(or any other Indian curry of your choice), plain lassi and papad as complete lunch or dinner. Its easy process, delicious taste and healthy qualities make it an ideal dish to be served with curd or tea in the breakfast.