This is a delightfully spicy paneer dish that can be served as an accompaniment or side dish in Indian dinner and its simply irresistible. This egg bhurji inspired Paneer dish has similar taste and texture and is prepared using crumbled or grated paneer with generous use of Indian curry spices, onion, tomato and capsicum.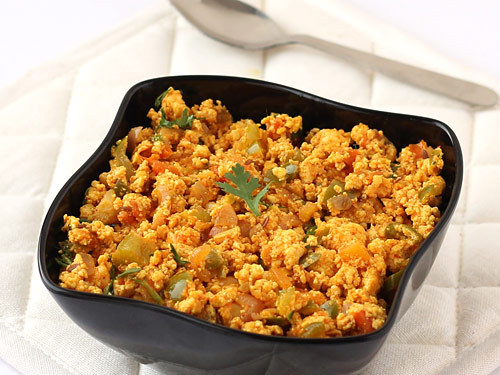 More Curry Recipes
Preparation Time:
10 minutes
Ingredients:
250 gms (1/2 lb) Paneer (cottage cheese), crumbled or grated
1 teaspoon grated Ginger
4-5 Garlic Cloves, crushed
1 Green Chilli, seeded and finely chopped
2 medium Onions, finely chopped
1 large Tomato, finely chopped
1 medium Capsicum, finely chopped
1/4 teaspoon Garam Masala
1/4 teaspoon Turmeric Powder
1/2 teaspoon Red Chilli Powder
1 teaspoon Coriander Powder
2 tablespoons Milk
1 teaspoon Lemon Juice
1½ tablespoons Oil
2 tablespoons Fresh Coriander Leaves, finely chopped
Salt
Directions:
Heat oil in a pan over medium flame. Add cumin seeds and allow them to crackle. Add grated ginger, crushed garlic and chopped green chilli and sauté for a minute.

Add chopped onion and sauté until it turns translucent, about 2-3 minutes.

Add chopped tomato and chopped capsicum, stir and cook until they turn soft and oil starts to separate for approx. 2-3 minutes.

Add garam masala, turmeric powder, red chilli powder, coriander powder and salt, mix well.

Add milk.

Mix and cook for a minute.

Add crumbled paneer and lemon juice.

Mix and cook for 3-4 minutes; stir occasionally in between to prevent sticking.

Turn off the flame and transfer prepared paneer bhurji to a serving bowl. Garnish with fresh coriander leaves and serve.
Tips and Variations:
Use non-stick pan or heavy based pan to avoid burning and sticking. Thick pan also helps distributing heat evenly on its entire surface, giving even heat to food from all sides.
Tofu can be used as a substitute of paneer in this easy recipe.
Add 1/2 teaspoon crushed kasuri methi in step-6 to enhance the flavor.
Serving Ideas:
As known in common Indian parlance, paneer ki bhurji, can be served with naan, paratha, chapatti or rumali roti for lunch or dinner. Serve it as an accompaniment or a side dish that compliments the main dish.