In its original preparation, it is nothing but stir fried vegetables in a sauce like hot and spicy thick gravy. Over time it has evolved to have many different variations and paneer jalfrezi is one of the famous and routinely served dish in Indian restaurants. This recipe sticks to its original preparation steps and first requires stir-frying carrot, onion, capsicum and tomatoes with green chillies. Additionally tomato puree, red chilli powder and Indian curry spices are used to make thick spicy gravy.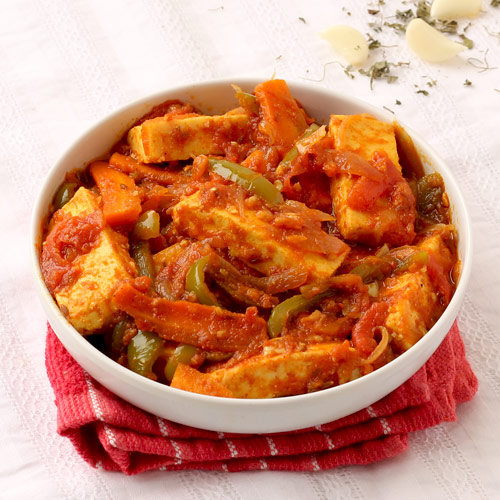 More Curry Recipes
Preparation Time:
10 minutes
Ingredients:
150 gms (5.2 oz) Paneer (cottage cheese) (cut into 2-inch strips)
1/4 cup Carrot (cut into 2-inch long strips)
1 medium Onion (sliced)
1 medium Green Capsicum (sliced)
1 Green Chilli (finely chopped)
1 medium Tomato (seeded and cut lengthwise)
1/4 cup Tomato Puree
1/2 teaspoon Cumin Seeds
1 tablespoon Ginger Garlic Paste
1 tablespoon Tomato Ketchup
1 teaspoon Red Chilli Powder
1/8 teaspoon Turmeric Powder
1 teaspoon Coriander Powder
1/4 teaspoon Garam Masala Powder
Salt to taste
2 tablespoons Oil
2 tablespoons finely chopped Coriander Leaves (for garnishing)
Directions:
Cut all the vegetables and paneer lengthwise as shown in the photo.

Heat oil in a medium size pan over medium flame. Add cumin seeds; when they start to turn light brown add sliced onion and sauté until it becomes translucent. Add ginger-garlic paste and stir-fry for a minute.

Add carrot and capsicum and stir-fry for 2-minutes.

Add tomato and green chilli and cook for a minute.

Add tomato puree and stir-cook for 2-3 minutes.

Add tomato ketchup, red chilli powder, turmeric powder, coriander powder, garam masala powder and salt.

Mix well and cook for a minute.

Add 1/3 cup water and cook for 2 minutes.

Add paneer cubes and mix well.

Cook until gravy turns thick for approx. 2-3 minutes. Turn off flame and transfer prepared sabzi to a serving bowl. Garnish with coriander leaves and serve hot.
Tips and Variations:
You can add French beans, yellow capsicum, red capsicum etc. in step-3 for variation.
If you are using frozen paneer then soak it in hot water for 10 minutes, drain and use it.
Use a non-stick pan to avoid sticking and burning of a curry.
It is supposed to taste very hot and spicy and this recipe tries to achieve the same. However, if you are not comfortable with it then tone down the hotness by reducing chili powder to ½ teaspoon and skip adding green chili.
If you like to have dry paneer jalfrezi, then do not add water in step-8.
Serving Ideas:
It is yet another delicious paneer curry having hot and spicy sauce like gravy. Because of its thick gravy, it is best enjoyed with butter naan or paneer kulcha, dal tadka and cucumber salad. Rice lovers can savor this spicy stuff with peas pulao or vegetable biryani too.