It is a dip cum topping made with fresh cilantro, lime juice, olive oil, yogurt, garlic and jalapeno pepper. This creamy condiment complements all kinds of salads very well. Learn how to make it within minutes by following this easy creamy cilantro lime dressing recipe with step by step pictures.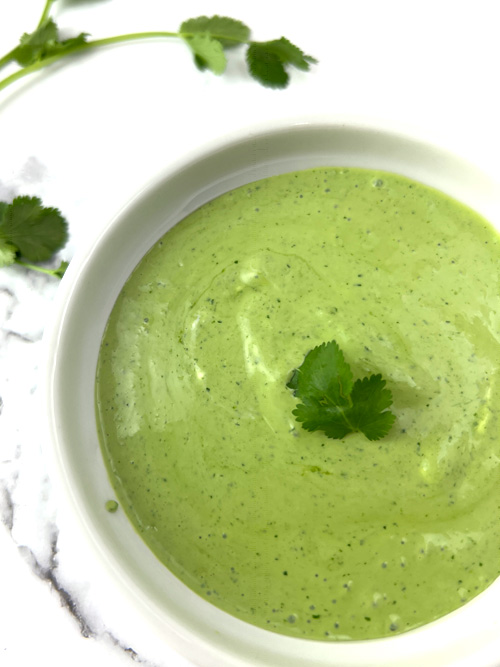 More Instant Recipes
Preparation Time:
10 minutes
Ingredients:
1 cup fresh Cilantro (coriander leaves)
1/2 cup Plain Greek Yogurt (sour cream or plain milk yogurt)
3 tablespoons Olive Oil
1-2 tablespoons Lime Juice (or lemon juice)
1 clove of Garlic
1 small Jalapeño Pepper (or any green chilli), seeds removed and chopped
1/2 teaspoon Salt
1 teaspoon Sugar or Honey, optional
Directions:
In this recipe, plain greek yogurt is used to make this dressing creamy. You can make this dressing without adding the yogurt.

Add 1/2 teaspoon salt, 1 teaspoon sugar (or honey), 1 small jalapeño pepper (seeds removed and chopped) and 1 small cove of garlic in the jar of a food processor or a blender or in the chutney jar of mixer grinder.

Add 3 tablespoons olive oil and 1-2 tablespoons lime juice (add only 1 tablespoon if you like mild sour taste).

Add 1 cup cilantro (coriander leaves).

Blend until smooth texture. Add 1/2 cup plain greek yogurt (sour cream or plain milk yogurt) and blend it again only for 2-3 seconds (if you are using a mixer grinder then pulse it only a few times).

Transfer prepared dressing into a bowl. Taste it and add more salt or lime juice if required and whisk. Creamy cilantro lime dressing with greek yogurt is ready to serve over salad or with cilantro lime rice.
Tips and Variations:
Adjust the amount of lime juice as per your taste.
Add 1/2 teaspoon dried parsley to enhance its flavor.
Use sour cream in place of yogurt in the same quantity.
If cilantro is not your choice, then use green parsley.
Taste:
Sour, mild spicy and creamy
Serving Ideas:
It can be served over beans salad, tacos etc. You can also serve it as a dip with nachos or bread sticks.