This is a tempting salad prepared with creamy avocado dressing, pasta and tomato. The fresh cilantro and yogurt based lightly spiced dressing makes it simply irresistible. This nutritious and healthy salad is a perfect choice for light meal or a side with roasted poultry, meat or BBQ.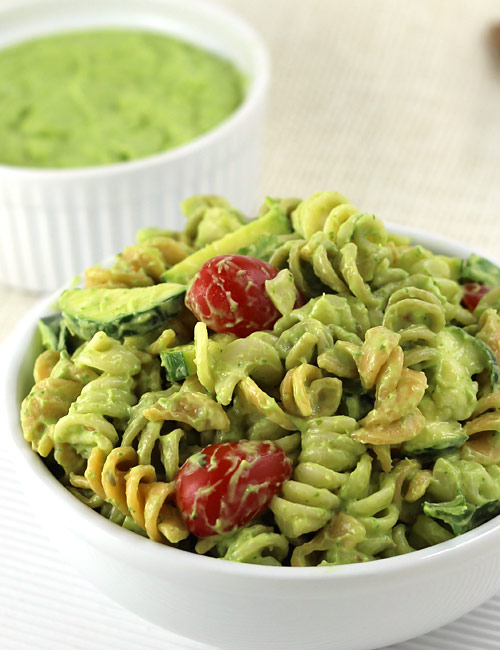 Preparation Time:
5 minutes
Ingredients:
1½ cups (approx. 4.5 oz) raw Fusilli Pasta or Penne Pasta
1/2 cup halved Cherry Tomatoes (or chopped Tomatoes)
1/2 cup diced Zucchini, optional
2 tablespoons chopped Fresh Cilantro or Fresh Parsley
1/4 teaspoon ground Black Pepper, optional
For Dressing:
1 large Ripe Avocado
1/4 cup Plain Greek Yogurt (curd)
1/4 cup chopped Fresh Cilantro (coriander leaves)
1 tablespoon Fresh Lime or Lemon Juice
1 clove of Garlic
1/2 teaspoon Cumin Seeds
1/4 cup Water
Salt to taste
Directions:
Boil the pasta according to the direction given on package or follow the given instruction to cook pasta. Pour approx. 5-6 cups water in a large pot and bring it to boil over medium flame. Add raw pasta and salt and cook until al dente. Drain and pour cold water over them, drain them again and keep aside.

While the pasta is cooking, let's prepare the salad dressing. Cut avocado into haves and remove the pit.

Scoop out the flesh from the avocado and add it to the food processor jar or mixer grinder jar or blender. Add 1/4 cup plain yogurt, 1/4 cup cilantro, 1 tablespoon lime juice, 1 clove of garlic, 1/2 teaspoon cumin seeds and salt.

Blend them until smooth. Add 1/4 cup water and blend again. Creamy dressing is ready.

Take cooked pasta, cherry tomatoes, diced zucchini, 2 tablespoons cilantro, 1/4 teaspoon ground black pepper powder, approx. 3/4 cup salad dressing and salt in a large bowl.

Toss gently to mix all ingredients. Cover the bowl with a lid or plastic wrap and place in the refrigerator for an hour. Avocado pasta salad is ready, serve it chilled.
Tips and Variations:
Adjust the amount of dressing as per your choice.
If the dressing is too thick, add more water and adjust the seasonings according to it.
Add canned or boiled black beans, sweet corns etc. for variation.
You can add 1/2 cup buttermilk instead of adding 1/4 cup curd + 1/4 cup water to make dressing.