Masoor Dal Tadka is a simple yet flavorful nutritious dal made with red lentils (orange masoor dal) which is one of the popular dal recipes from the North Indian cuisine. It's easy to make and can be ready in 20-25 minutes. In this recipe, we have used the pressure cooker to cook it quickly but it can be also cooked in a pan on stove top or in an instant pot. Follow the below given recipe with step by step photos to make it at home.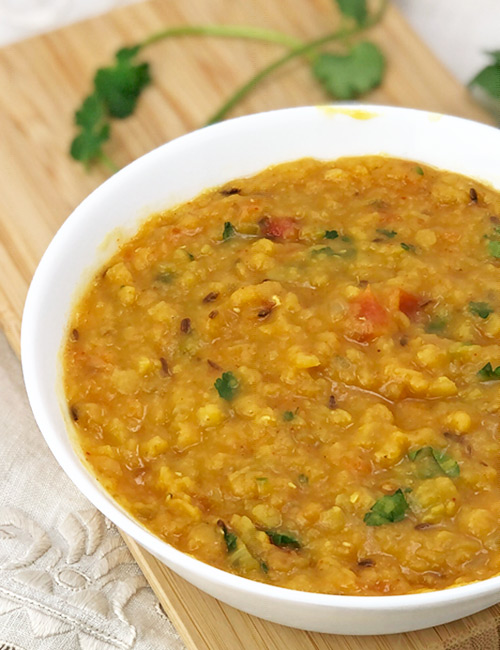 More Daal Kadhi Recipes
Preparation Time:
7 minutes
Ingredients:
1/2 cup Masoor Dal (red lentils)
2 tablespoons Oil
1 teaspoon Cumin Seeds
1/2 teaspoon grated Ginger (or paste)
1 Green Chilli, chopped
2-3 small cloves of Garlic, chopped
A pinch of Hing, optional
1/2 teaspoon Red Chilli Powder
1 teaspoon Cumin-Coriander Powder, optional
1 medium Onion, finely chopped (approx. ½ cup)
1 large Tomato, chopped (approx. ½ cup)
1/4 teaspoon Turmeric Powder
Salt, to taste
1½ cups Water
1/2 tablespoon Lemon Juice (or to taste)
Directions:
Take 1/2 cup masoor dal (red lentils) in a bowl or a pot.

Wash the dal 2-3 times or until the water runs clear. Drain the excess water.

Heat 2 tablespoons oil in a 2-3 liter capacity pressure cooker over medium flame. Add 1 teaspoon cumin seeds, 1/2 teaspoon grated ginger, 1 chopped green chilli, 2-3 small garlic cloves (chopped) and a pinch of hing.

Sauté until the garlic turns light golden.

Meanwhile, take 1/2 teaspoon red chilli powder and 1 teaspoon cumin-coriander powder in a small bowl or a small plate.

Transfer this tempering mixture (tadka) in the plate over red chilli powder. Keep it aside until needed.

Add 1 medium onion (approx. 1/2 cup chopped) and saute until onion turns light pink.

Add 1 large tomato (approx. 1/2 cup chopped) and cook for a minute.

Add masoor dal, 1/4 teaspoon turmeric powder and salt.

Mix well and cook for a minute. Add 1½ cups water and mix well.

Close the lid and pressure cook the dal for 2-whistles over medium flame.

Turn off the flame. Let the pressure release naturally. Open the lid. Add 1/2 tablespoon lemon juice and tadka mixture (prepared in step-6). Mix well. Check the consistency of the dal. If you like watery dal, add some water and boil the dal for 4-5 minutes over medium flame. If you like thick dal then cook the dal until you get the desired thickness.

Garnish with coriander leaves.

Masoor Dal Tadka is ready for serving. Serve it with jeera rice, paratha, paneer tikka masala and papad as a complete meal in lunch or dinner.
Tips and Variations:
Adjust the amount of green chilli and red chilli powder as per your preference.
For variation, add chopped veggies like carrot, celery, spinach, etc.
Serving Ideas:
  Serve masoor dal with jeera rice, chapati and bhindi masala gravy in lunch.