Chana dal or chana dal curry is a protein rich simple dal (lentil curry) made with split chickpeas popular in India. This recipe is one of the healthy Indian recipes and easy to prepare at home using basic ingredients and spices, which are easily available in kitchen and generally used to prepare routine dishes.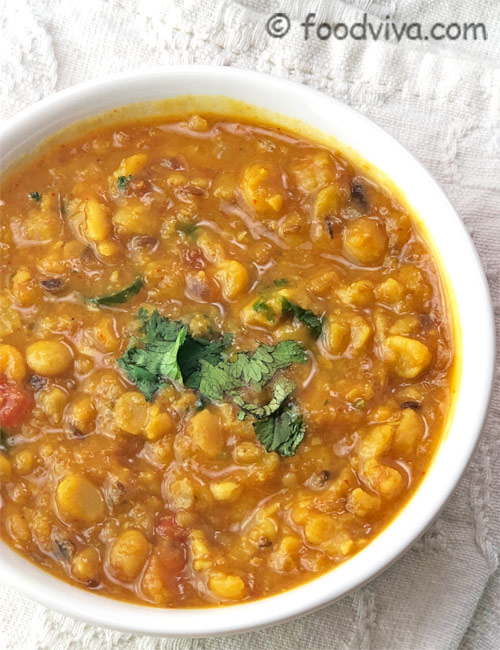 More Daal Kadhi Recipes
Preparation Time:
 10 minutes + 30 minutes soaking time
Ingredients:
1/2 cup Chana Dal (yellow chickpeas lentils)
1/2 teaspoon Cumin Seeds
A pinch of Asafoetida (hing)
1 small Onion, finely chopped
1/2 teaspoon grated Ginger, optional
3-4 cloves of Garlic, finely chopped
1 Green Chilli, finely chopped
1 Tomato, chopped
1/2 teaspoon Red Chilli Powder
1/2 teaspoon Coriander Powder
1/4 teaspoon Turmeric Powder
2 tablespoon finely chopped Coriander Leaves
Salt
1¼ cup Water
1½ tablespoons Oil
Directions:
Wash chana dal in water and soak it for 30 minutes to 1 hour (as per your choice). Soaking the dal helps it cook faster and easy to digest. Drain excess water and keep aside.

Heat 1½ tablespoons oil in a 2 or 3-liter capacity steel/aluminum pressure cooker. Add 1/2 teaspoon cumin seeds and a pinch of asafoetida (hing). Add finely chopped onion.

Sauté until onion turns light pink.

Add 1 green chilli (finely chopped), 3-4 cloves of garlic (finely chopped) and 1/2 teaspoon grated ginger (or paste).

Sauté for a minute.

Add 1 finely chopped tomato and sauté for a minute.

Add 1/2 teaspoon red chilli powder, 1 teaspoon coriander powder and 1/4 teaspoon turmeric powder and salt.

Stir and cook for a minute. Remove 1 tablespoon tadka to a small bowl and keep it aside for garnishing.

Add 1/2 cup soaked chana dal and mix well. Cook for a minute.

Add salt and 1-cup water. Mix well.

Close the lid and pressure cook it for 5-6-whistles over medium flame or until the dal turns soft. Turn off the flame and let the pressure release naturally. Do not open the lid immediately otherwise dal may remain uncooked.

Open the lid. Lightly mash the dal with the backside of a spoon.

Cook until you get the desired consistency for 2-3 minutes.

Turn off the flame. Add coriander leaves and previously kept tadka (kept in step-8).

Chana dal is ready for serving.
Tips and Variations:
You can also cook the dal in a pot/pan until soft but it will take more time to cook.
Add 1-teaspoon ghee with oil in step-2 for nice flavor.
You can soak the dal 4-6 hours ahead instead of 30 min-1 hour. That will help in easy digestion.
Skip step-1 of soaking lentils in water if you are in hurry and cook the dal for 7-8 whistles.
Taste:
 Mild spicy and salty
Serving Ideas:
 Serve this dal with paratha or steamed rice in dinner.