Dal Fry
is a spicy punjabi dish made from mixed dals like toor, chana, moong, masoor dal or just with chana and toor dal. This authentic Punjabi daal fry recipe follows the former approach and uses assortment of protein rich dals cooked in pressure cooker and mixed with Indian curry spices sautéed in pure ghee. The whole cooked dal grains in dal fry prepared with this recipe gives it a delicious texture while ghee sautéed curry spices provides rich aroma and spicy taste. Serve it with
jeera rice
and papad in lunch or dinner.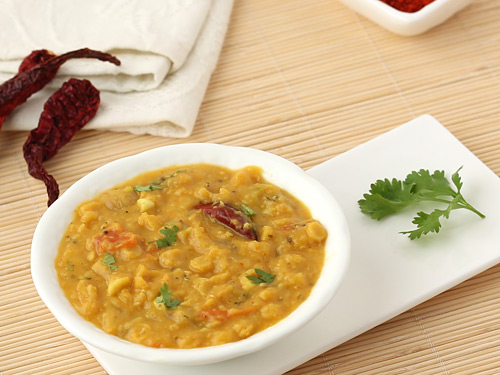 More North Indian Recipes
Preparation Time:
10 minutes
Ingredients:
4 tablespoons Toor Dal (toovar dal/arhar dal/split pigeon pea)
3 tablespoons Chana Dal (gram lentil)
3 tablespoons Moong Dal
3 tablespoons Masoor Dal
1½ cups + 3/4 cup Water
1 medium Tomato, finely chopped
1 large Onion, finely chopped
4 cloves Garlic, crushed
1/2-inch Ginger, crushed
2 Green Chillies, finely chopped
2 tablespoons Ghee (clarified butter)
3 Cloves
1 Cinnamon stick, broken into 2-pieces
1/2 teaspoons Cumin Seeds
2 Dry Red Chillies
1/4 teaspoon Garam Masala Powder
1/4 teaspoon Turmeric Powder
1/2 teaspoon Red Chilli Powder
1 teaspoon Coriander Powder
1 teaspoon Lemon Juice
Salt
2 tablespoons finely chopped Coriander Leaves
Directions:
Wash all dals in running water. Mix and soak them in water for 10 minutes. Drain water after 10 minutes and transfer to pressure cooker (3-5 liter size).
Add salt and 1½ cup water in pressure cooker and pressure-cook them over high flame. When 1 whistle is over, reduce flame to medium and cook for another 3 whistles.

Do not open its lid immediately. Let it cool for 7-8 minutes or until pressure comes down naturally. This process is not only for the safety but also required to cook dal properly. Open the lid and keep cooked dal aside until needed. Do not blend or mash them.

Now prepare spicy sauté. Heat ghee in a pan over medium flame. When it is hot enough to sauté, add cumin seeds, red dried chillies, cinnamon and cloves. When seeds begin to crackle, add chopped onion and stir-fry over medium flame until it turns light brown or for approx. 1 minute.

Add crushed ginger, crushed garlic and finely chopped green chilli; sauté for 20-30 seconds.

Add finely chopped tomatoes and salt (only required to soften tomatoes); cook until tomatoes turn tender.

Add garam masala, coriander powder, red chilli powder, turmeric powder; mix them properly. Add pressure-cooked dals; mix and cook for a minute.

Add lemon juice, 3/4 cup water and cook on medium flame for 4-5 minutes. Stir in between occasionally to prevent sticking.

Turn off flame and transfer prepared daal to bowl. Garnish it with finely chopped coriander leaves.
Tips and Variations:
If you do not like the whole cooked dals texture, then you can mash or blend them using blender or back of the large spoon.
This simple and delicious recipe uses ghee, however, you can also use oil or butter too.
For yet another variation of punjabi style dhaba dal fry, use 1/4 cup chana dal and 1/4 cup toor dal instead of using all types of dal used in this recipe. Directions for making daal fry remains the same.
Serving Ideas:
Dal fry and tandoori roti is a staple food in Punjab and Haryana and typically served in most of the road side dhabas. It tastes best with jeera rice, glass of salted lassi and onion cucumber salad. The more modern and affluent people love to eat it with butter naan or paneer kulcha.