Though there are many simple and best curries and dals in Punjabi cuisine, nothing beats the simplicity and appeal of dal tadka, a yellow dal generously garnished with tadka (tempering) of garlic, dry red chilli and cumin seeds. Its rich and appetizing flavor profile makes it suitable to be served with array of Indian flat breads and makes a healthy meal. It is the cooking process which makes it so unique and irresistible. Generally in any dal recipe, tempering is prepared first and then cooked dal is added to it but not in this recipe; here pressure-cooked dal is first mixed with sautéed ginger, garlic, green chilli and onion and then ghee tempered garlic and spices are poured over it at the time of serving.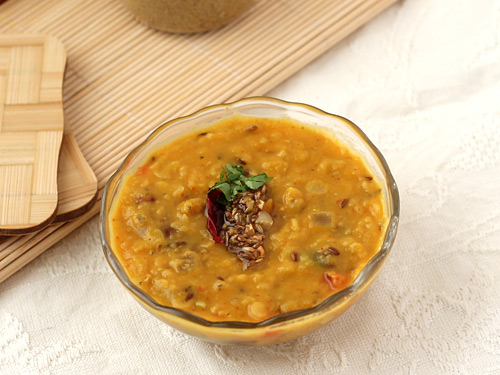 More Punjabi Recipes
Preparation Time:
 5 minutes
Ingredients:
1/2 cup Toor Dal (arhar dal)
1/4 cup Chana Dal (Bengal gram)
1/4 cup Masoor Dal (red lentils)
1 medium Onion, sliced
1 tablespoon crushed Ginger-Garlic
1 Green Chilli, finely chopped
1 Tomato, finely chopped
1/2 teaspoon Red Chilli Powder
1/4 teaspoon Turmeric Powder
2½ cups + 1 cup Water
2 teaspoons Ghee or Oil
Salt
2 tablespoons chopped Coriander Leaves, for garnishing
For Tempering:
1/2 teaspoon Cumin Seeds
2 cloves of Garlic, chopped (optional)
1 Dry Red Chilli, broken into two pieces
A pinch of Asafoetida (hing)
2 teaspoons Ghee
Directions:
Rinse toor dal, chana dal and masoor dal in water and add them into 3-5 liter capacity steel or aluminum pressure cooker. Add 2-cups water and salt and pressure cook for 4-whistles over medium flame. Turn off flame and allow the pressure to release naturally. Open the lid and keep the cooked dal aside.

Heat 2-teaspoons ghee/oil in a pan. Add sliced onion and sauté until it turns light brown. Add crushed ginger-garlic and chopped green chilli and sauté for 30-40 seconds. Make sure, garlic does not turn dark brown.

Add chopped tomato and sauté until it turns soft.

Add and mix turmeric powder and red chilli powder.

Add cooked dal and mix well.

Add 1-cup water and stir to mix. Taste for the seasoning and add salt accordingly.

Cook on medium flame until you get the desired consistency of dal or for approx. 5-6 minutes, stir multiple times in-between. Remove it from flame and transfer into a large serving bowl.

Prepare the tempering by heating 2-teaspoons ghee in a small pan. Add cumin seeds and allow them to sizzle. Add chopped garlic, dry red chillies and asafoetida, mix well and allow garlic to turn light brown.

Remove pan from flame and pour prepared tempering over cooked dal in a serving bowl. Garnish with chopped coriander leaves and serve with steamed rice.
Tips and Variations:
Out of moong dal, chana dal, masoor dal and toovar dal, you can take any one dal or any combination of it in this recipe. However, make sure that their total quantity is 1 cup.
Ghee is used for a nice flavor and this is what makes it so popular. However, you can also use butter or oil as its replacement.
Soak dals in water for 30 minutes before pressure-cooking for faster cooking.
Taste:
 Mild spicy with appetizing flavor of garlic and ghee
Serving Ideas:
 Punjabi yellow dal with lasooni tadka tastes delicious and stomach filling when served with steamed rice, jeera rice or Indian breads like paratha, tandoori roti or naan as a full meal. A glass of lassi and papad goes a long way in improving its taste.