Corn Pulao is a nutritious and easy to make Indian rice dish which is not the usual peas pulao! The star ingredients which differentiates this Indian style corn pulao recipe from other similar pulaos are American sweet corn kernels, basmati rice and Indian spices. However, they alone doesn't make it irresistible, the real crux lies in the trick with which it is cooked. Continue reading this step by step recipe to to find out how! and yeah, don't forget to serve it with dal tadka or
dal fry
in lunch or dinner and see how quickly plates become empty!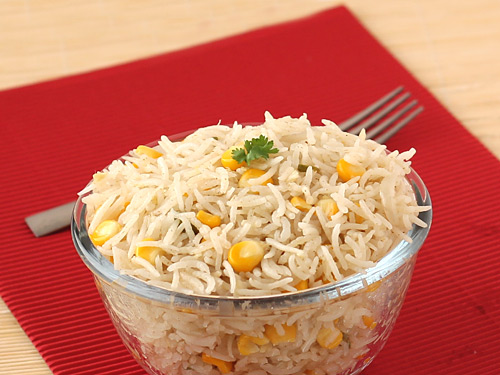 More Rice Recipes
Preparation Time:
 15 minutes
Ingredients:
1/2 cup Long Grained rice (basmati rice)
3/4 cup Sweet Corn Kernels (fresh or frozen)
1 small piece of Bay Leaf (optional)
2 small pieces of Cinnamon Stick
2 Cloves
1 large Onion, thinly sliced
1½ teaspoons Ginger-Garlic (crushed)
1 Green Chili, sliced
1/4 teaspoon Garam Masala Powder
1/2 teaspoon Coriander Powder
1¼ cups Water
Salt
1/2 tablespoon Butter or Ghee
1/2 tablespoon Oil
2 tablespoons  finely chopped Coriander Leaves, for garnishing
Directions:
Wash rice and soak them in water for 15-minutes. If possible, soak them for 30 minutes.

Heat butter and oil in a pan (with lid) over medium flame. Add bay leaf, cinnamon stick and cloves and allow cloves to crackle. Add sliced onion and sauté until it turns transparent. Add crushed ginger-garlic and green chilli and sauté until garlic turns light brown (about 30-45 seconds).

Add sweet corn kernels and sauté for a minute. Add garam masala powder, coriander powder and mix well.

Drain the excess water from soaked rice and add it.

Sauté them for 1-2 minutes over medium flame.

Add salt and 1¼ cup water and bring it to a boil over medium flame.

When it starts boiling, reduce flame to low and cover the pan with a lid. Cook covered for 10-minutes. Don't open the lid in between.

Turn off the flame and let it stand for 8-10 minutes. Now, open the lid and fluff the rice with a fork to separate the rice grains.

Transfer prepared sweet corn pulao into a serving bowl and garnish with coriander leaves.
Tips and Variations:
Butter or ghee is used to get a rich fragrance. You can increase or decrease its quantity to get desired health and taste balance.
Spices gives it a fragrant and appetizing smell as well as little spicy touch. You may change its quantity according to your palate.
You can use pressure cooker instead of pan for cooking. Follow the same recipe and pressure-cook in a 3-liter capacity aluminum/steel pressure cooker for 3-whistles (in step-8). After cooking, let it stand until pressure releases naturally, about 5-7 minutes, before serving (however, there might be a possibility that rice grains may stick together and does not stay separated as pressure of steam will make them dense).
Taste:
 Mild Spicy with nice flavor of spices
Serving Ideas:
 Serve this pulao with palak raita or
dal tadka
for delicious lunch or dinner. You can also serve it by itself or as a rice dish with meal.