Vegetable Pulao (Veg Pulav) is a spicy rice dish prepared by cooking rice with various vegetables and spices. In this recipe, assortment of spices, veggies and rice are first sautéed in oil and ghee and then cooked in pressure cooker as you would cook plain rice. However, the uniqueness of this easy mixed vegetable pulao recipe lies in use of bay leaf, cinnamon and cloves which provides nice and complex aromatic feel that simply makes juices flowing in mouth.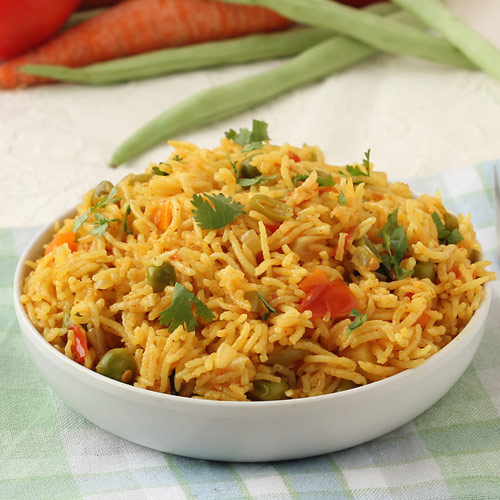 Veg Pulao In Pressure Cooker Video
Preparation Time:
15 minutes
Ingredients:
1/2 cup Basmati Rice (long grained rice)
1 medium Onion, finely chopped
1 small Tomato, finely chopped
1/4 cup Green Peas (mutter), fresh or frozen
3 tablespoons finely chopped French Beans
1/4 cup finely chopped Carrot
1 small piece of Bay Leaf
1-inch piece of Cinnamon
2 Cloves
1/4 teaspoon Garam Masala Powder
1/8 teaspoon Turmeric Powder
1/2 teaspoon Red Chilli Powder
2 tablespoons finely chopped Coriander Leaves
2 tablespoons Oil
1 teaspoon Ghee
1 cup Water
Salt to taste
Directions:
Wash rice and soak it in water for 15-20 minutes. Drain and keep aside until needed.

Heat ghee and oil together in a pressure cooker (2-liter capacity, stainless steel cooker) on low flame. Add bay leaf, cinnamon, clove, and sauté for 30 seconds. Add onion and sauté until it turns light brown or for approx. 2 minutes.

Add chopped tomato, green peas, french beans and carrot.

Stir-fry them for approx. 2 minutes.

Add soaked (drained) rice, garam masala powder, turmeric powder, red chilli powder and salt.

Stir-fry them for approx. 2 minutes.

Add 1 cup water and mix well.

Close the lid and cook over medium flame for 2 whistles. When 1st whistle is completed, reduce the flame to low and cook until another whistle. Turn off flame.

Let it cool at room temperature until pressure inside cooker comes down naturally. Open the lid carefully and fluff the rice with a fork. Transfer it to a serving bowl and garnish with fresh coriander leaves.
Tips and Variations:
We have used 2 liter capacity stainless steel cooker in this recipe. However, you can use larger size of cooker as well but you need to determine how many whistles and what flame intensity will be required to cook it properly. If you are using pressure cooker made of aluminum then cook it for 2 whistles on medium flame.
You can prepare it in large quantity in larger pressure cooker. Just use rice and water in 1:2 ratios. i.e. for every one cup rice two cups water should be added.
You can also prepare equally delicious mixed vegetable rice pulao in a pan with a lid. Use same amount of ingredients as mentioned in this recipe, cover pan with a lid and cook it on low flame for 8-10 minutes. Do not open the lid in between while cooking. After turning off the flame, open the lid after 7-8 minutes. However, cooking in a pan may require more water as steam will escape easily, hence add 1/4 cup more water for given recipe.
Serving Ideas:
Indian vegetable pulao is traditionally served with cucumber raita or onion raita, papad and pickle. In south Indian states like Andhra Pradesh, Kerala, Karnataka and Tamilnadu, it is served and enjoyed with coconut chutney. It is a perfect dish for bachelors to make for dinner.