This Dal Makhani Recipe is very easy to make, simple and using only one pot (pressure cooker) yet the end result is delicious. First, the dal is cooked for 6-7 whistles in pressure cooker and then remaining ingredients are added to the dal and again cooked for 5-7 whistles. Finally, the cream is mixed with the dal and that's it. Creamy dal makhani is ready. You can make this dal in instant pot as well by following the same method.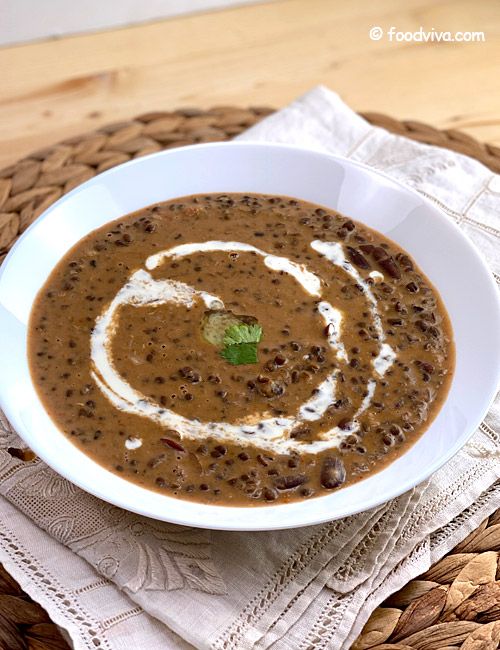 Dal Makhani In Pressure Cooker Video
More Daal Kadhi Recipes
Preparation Time:
8 hours
Ingredients:
1/2 cup Whole Black Urad Dal (black lentils), soaked in water for 6-8 hours
3 tablespoons Rajma (red kidney beans), soaked in water for 6-8 hours
1/2 tablespoon Ginger-Garlic Paste
1/2 cup Tomato Puree
1/2 teaspoon Red Chilli Powder
1/2 teaspoon Kasuri Mehti, optional
2 tablespoons Butter (or more if you like)
1/4 cup Fresh Cream
Salt, to taste
Directions:
Blend 2 medium tomatoes in a mixer grinder to make tomato puree.

Take 1/2 cup whole urad dal and 2-3 tablespoons rajma and wash them in water for 3-4 times. Rub the dal between your palms to wash it properly.

Soak them in 1½-2 cups water for 6-8 hours or overnight.

Drain the excess water and transfer them in a 3-litre capacity pressure cooker. Add 2 cups water and 1/2 teaspoon salt.

Close the lid and cook them for 6-7 whistles over medium flame. Turn off the flame and let the cooker cool for a while (5-7 minutes). Remove the excess pressure and open the lid. (If you are not in a hurry, let the pressure release naturally.)

Add 1/2 cup tomato puree.

Add 1/2 tablespoon ginger-garlic paste and 1/2 teaspoon red chilli powder

Add 1/2 teaspoon kasuri methi and 2 tablespoons butter.

Mix well and close the lid. Cook again for 5-7 whistles over medium flame.

Turn off the flame and let the cooker pressure release naturally. Remove the lid. Taste the dal makhni for salt. Add more if required.

Lightly mash the dal with the backside of a large spoon. Check the consistency of dal makhani.

Add (1/2 cup- 1 cup) more water if it is too thick.

Let it cook for 4-5 minutes or until you get the desired thickness.

Turn off the flame. Add 1/4 cup fresh cream and mix well.

Creamy Dal Makhani is ready for serving.
Tips and Variations:
Creamy – Don't reduce the amount of butter or fresh cream to get the restaurant like taste.
Mash the dal well using the backside of the spoon to get creamy texture of the dal.
Serving Ideas:
 Serve dal makahni with jeera rice or tandoori roti or butter naan in lunch or dinner.