It is a one of many varieties of payasams in south India, especially popular in Kerala and Tamilnadu. The use of pasi paruppu (moong dal) in its preparation makes it even healthier and delectable. This paruppu payasam recipe follows the pressure cook technique to retain all goodness of pasi paruppu and reduce the cooking time. However, you can also cook it without using pressure cooker.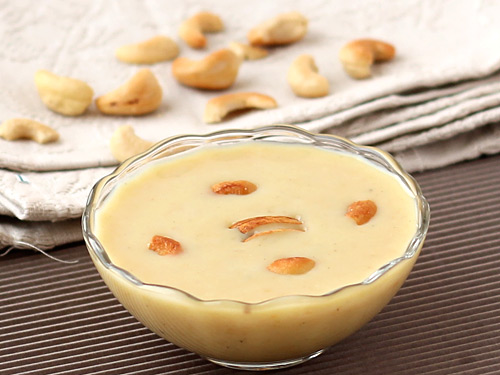 More Dessert Recipes
Preparation Time:
5 minutes
Ingredients:
1/4 cup Yellow Moong Dal (pasi paruppu / split green gram without skin)
1/4 cup grated or powdered Jaggery
1/2 cup Milk
1/4 teaspoon Cardamom Powder
1 teaspoon + 1 teaspoon Ghee
6 Cashew Nuts, broken into halves
Water
Directions:
Heat 1-teaspoon ghee in a small pan and fry cashew nuts until light brown. Transfer them to a plate.

Heat remaining 1-teaspoon ghee in same pan and roast moong dal until light brown. It will take approx 3-4 minutes to turn light brown on medium flame.

Cook roasted moong dal in a steel/aluminum pressure cooker (3-liter capacity) with 3/4 cup water for 3-whistles. Use medium flame to pressure cook roasted moong dal. Turn off heat and leave it idle to let pressure comes down naturally.

In the meantime, dissolve jaggery in 1/4 cup hot water (use of hot water will make it dissolve faster). Strain it through strainer and discard any impurities it may have.

Open lid of a pressure cooker carefully and mash moong dal with the help of large spoon or spatula.

Add jaggery syrup, milk and cardamom powder and cook over medium flame.

Stir to mix well and bring it to boil.

When it starts to boil, reduce flame to low and cook until thick, approx 4-5 minutes. Stir it continuously to avoid sticking and burning of dal on the bottom and sidewalls of cooker.

Turn off flame and transfer it to a serving bowl. Garnish paruppu payasam with fried cashew nuts and serve warm or chilled.
Tips and Variations:
Use chana dal (split Bengal gram without skin) for variation.
Add small amount of warm milk if consistency of payasam turns thick after cooking and chilling.
If you do not want to use pressure cooker, then boil dal in a pan until soft.
If you are not comfortable with using pressure cooker from start till end, then use it only for coking moong dal. After that transfer it to pot in step-5 and continue following from there.
Using pressure cooker for cooking requires prior knowledge of how to use it and you must be knowledgeable on the capacity and time required to cook in your pressure cooker.
Taste:
Sweet and creamy with grainy texture of moong dal. The use of jaggery adds a its own unique flavor to its overall appeal.
Serving Ideas:
Warm paruppu payasam goes well as a side dish in lunch or serve it as a dessert.