Payasam prepared with palada (rice ada) is common sweet delicacy prepared in almost all Kerala households during festival of Onam and many other occasions. There are many variations of it, however, this easy south Indian Kerala food recipe uses only basic ingredients like rice ada, milk, sugar and ghee to make best palada payasam.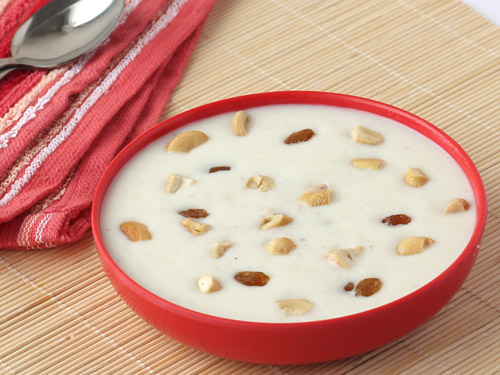 More Kerala Recipes
Preparation Time:
10 minutes
Ingredients:
1/3 cup Palada (rice ada)
1 tablespoon chopped Cashew Nuts
1 tablespoon Raisins
2 cups Milk
2 teaspoons Ghee
1/4 cup Sugar
1/4 teaspoon Cardamom Powder
Directions:
Rice ada is easily available in Indian Kerala grocery stores. In this recipe, "Double Horse" brand rice palada is used.

Soak readymade rice ada in 2 cups warm water for 10 minutes.

After 10 minutes, you will notice rice ada is increased in size. Drain water and rinse 2-3 times in cold water.

Heat ghee in a small pan and roast cashew nuts until light brown and then roast raisins until fluffy. Roast cashew nuts and raisins separately. Transfer them to a plate.

Add milk, sugar, cardamom powder and soaked rice ada in a non-stick pan or heavy based kadai and cook on medium flame until mixture starts to boil.

When boils, reduce flame to low and cook the mixture over medium flame for around 10-15 minutes or until it turns thick and palada turns soft. Stir continuously to avoid sticking.

Taste payasam and add more sugar if required and mix well. Turn off flame and transfer palada payasam to a serving bowl and garnish with roasted cashew nuts and raisins.
Tips and Variations:
Add 1/4 cup condensed milk in step-4 for a rich and creamy texture.
Serving Ideas:
Serve it on the day of Onam as a dessert. Serve it as a sweet dish to guests as a welcome sweet on festivals and special occasions like marriage or parties.