Onam celebration feels incomplete without a bowl of ada pradhaman. Rice ada, a typical kerala food item made from rice, jaggery and coconut milk are key ingredients in making this delicious dish and are the reasons for its flavorful tropical coconut taste. This recipe uses the readymade rice ada for quick preparations, however you can use homemade fresh ada to make it even more delicious. Try this creamy recipe for annual Onam celebrations or to satisfy your sweet cravings.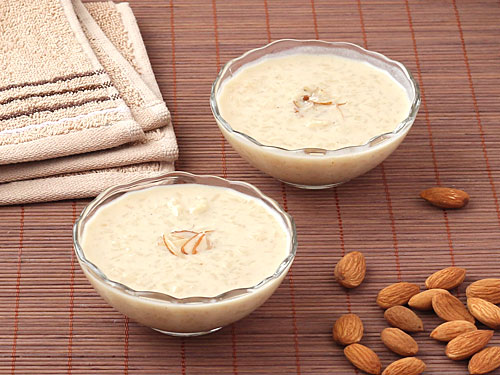 More Kerala Recipes
Preparation Time:
10 minutes
Ingredients:
1/4 cup Rice Ada
1 tablespoon sliced Almonds
1/2 cup Jaggery
1 cup Coconut Milk
1/2 cup Milk
1 tablespoon Ghee
1/4 teaspoon Cardamom (Elaichi) Powder
Water
Directions:
Soak rice ada in 2 cups hot water for 10 minutes.

Drain water and keep it aside.

Add 1/2 cup water in jaggery and stir well to dissolve. Strain dissolved jaggery to remove any impurities.

Heat it in a heavy bottom base pan and cook on medium flame for 3-5 minutes.

Add soaked ada and ghee and stir well. Cook until it starts to thicken or for around 3-5 minutes.

Add milk and mix well. Cook over low flame for 5 minutes while stirring occasionally in between.

Add coconut milk and mix well. Cook it over low flame until thick to desired level or for around 10 minutes with occasional stirring.

Add cardamom powder.

Mix well and turn off flame.

Transfer ada pradhaman to a serving bowl. Garnish with sliced almonds and serve warm or cold.
Tips and Variations:
The color of cooked dessert may vary from light brown to dark brown depending on the color of jaggery.
Its consistency will get thick as it cools slowly at room temperature. If it turns too thick, then add a small amount of warm milk and mix well before serving.
You can easily find ready-made rice ada (brands like double horse) in any Indian Kerala grocery store.
Taste:
Sweet and creamy with nice aromatic flavor of jaggery
Serving Ideas:
Serve it as a dessert during festivals like Onam or anytime you feel like having it.