Gobi manchurian gravy is a tempting combination of deep fried cauliflower florets and a spicy cornflour based thick gravy prepared in traditional Chinese way. This recipe involves, first preparing and then combining, two main sub ingredients; deep fried florets and spiced gravy. Most of the cauliflower manchurian recipes call for use of MSG (Ajinomoto), however, this recipe does not use MSG but still gets the same irresistible taste.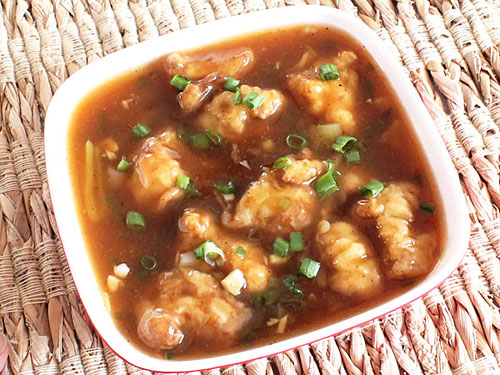 More Chinese Recipes
Preparation Time:
10 minutes
Ingredients:
For Gobi Manchurian Florets
2 tablespoons Maida (all purpose flour)
4 tablespoons Cornflour (corn starch)
1/2 medium size Cauliflower (Gobi)
1 teaspoon Ginger-Garlic Paste
Cooking Oil, for deep frying
Salt
1/4 cup Water
For Gravy
1/2 tablespoon finely chopped Ginger
2 Green Chillies, deseeded and slit lengthwise
2 teaspoons finely chopped Garlic
3 tablespoons finely chopped Spring Onion
1 tablespoon Cooking Oil
2 tablespoons Soy Sauce
1/2 tablespoon Chilli Sauce
2 tablespoons Tomato Ketchup
1/2 teaspoon Pepper Powder
2 tablespoons Cornflour (corn starch)
2 cups Hot Water
Salt
Directions for Making Gobi Manchurian Florets:
Clean cauliflower and break it into big florets. Boil florets in plenty of water for 3 minutes. Drain water and pat dry them on kitchen towel.

Take maida, cornflour, ginger-garlic paste and salt in medium size bowl. Add approx. 1/4 cup water; mix all ingredients and make a batter. Make sure that batter should be neither very thick nor watery. (its thickness should be similar to dosa batter or pancake batter) Add cauliflower florets in batter and mix well until all florets are coated with batter.

Heat cooking oil in kadai (pan) over medium flame. When oil is hot enough to deep fry, carefully slide or drop 7 to 8 batter coated florets and deep fry over medium flame until they turn golden brown.

Drain and transfer florets to plate. (If possible, spread kitchen paper napkin over plate to absorb excess oil from deep fried florets) Deep fry remaining florets until golden brown.
Directions for Making Gobi Manchurian Gravy:
Dissolve 2 tablespoons cornflour in 1/2 cup water and keep aside.

Heat 1 tablespoon oil in a pan. Add chopped ginger, garlic, green chilli and chopped spring onion. Sauté on medium heat for a minute.

Add soy sauce, chili sauce, tomato ketchup, pepper powder and salt; cook for 1 minute.

Pour 2 cups hot water and bring mixture to boil over medium flame. Boil it for a minute. Add dissolved cornflour while stirring constantly to avoid forming lumps. Stir and cook on low flame for a minute.

Add deep fried cauliflower florets and cook for 3 minutes over medium flame.

Gobi Manchurian with spicy gravy is ready. Transfer it to another bowl and garnish with chopped spring onion. Serve it with schezwan noodles or Chinese fried rice.
Tips and Variations:
Clean cauliflower florets by soaking them in warm salted water for 15 minutes.
Do not deep fry too many gobi florets at a time otherwise they will not cook evenly due to over crowding.
Chilli sauce and soy sauce are two main flavoring agents in this recipe, adjust the quantity of them to get desired taste.
To prepare crispier cauliflower florets deep fry them little longer. Also, you can mix florets into gravy only before serving to preserve their crispiness.
Serving Ideas:
Serve it as a soupy starter before meal. The thick and spicy gravy is a great accompaniment to hakka noodles and paneer fried rice. Steaming hot gravy of cauliflower manchurian is a delicious body warmer during cold winter evenings.