India is a land of tongue tickling sweet, sour and spicy chaats and there are many many varieties of it. However, out of all chaats, crispy flat puris (papdis) topped with potato, chickpeas, moong beans, onion, flavored with green chutney, sweet chutney, curd and crispy sev otherwise known as papdi chhat is best. It has a perfect combination of crunch and mouth-watering flavor of chutneys complimented by goodness of boiled potatoes, chickpeas and sprouted moongs, making it a perfect party snack. Prepare all raw materials in advance and allow your guests to assemble it themselves to their liking and spare yourself of all serving troubles of other recipes. Don't forget to read tips and variations given below in this step by step photo recipe of dahi papri chaat to customize it to your liking.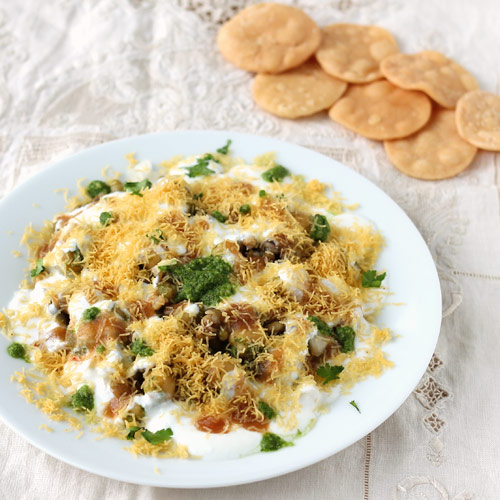 More Snacks Recipes
Preparation Time:
20 minutes
Ingredients:
14 Papadis (flat puri/chaat puri)
2/3 cup(1/2 cup + 2 tablespoons) boiled Chickpeas
2/3 cup (1/2 cup + 2 tablespoons) boiled and chopped Potato (approx. 1 large)
1/2 cup boiled Moong Beans, optional
1/2 cup chopped Onion (approx. 1 medium)
1/2 cup Curd, lightly beaten
5 tablespoons (1/4 cup + 1 tablespoon)  Date Tamarind Chutney (khajur imli ki chutney)
5 tablespoons (1/4 cup + 1 tablespoon) Green Coriander Chutney
1/2 cup Sev
Notes:
For making dahi papdi chaat, you can also add pakori (bhalla or vada of
dahi vada recipe
) to make an authentic Delhi style chaat. Add salt while boiling chickpeas, potato and moong beans to get even salty taste in every spoonful. Prepare all the chutneys by following their recipes.
Directions:
Prepare all the ingredients and arrange them before starting the assembling process. Take two deep serving plates and arrange 7-papadis in each of them. You can either keep papdis whole or lightly break them into small pieces.

Mix 2-tablespoons green chutney with chickpeas.

Top each plate with 1/3 cup potatoes and 1/4 cup onion.

Top each plate with 1/3 cup chickpeas.

Top each plate with 1/4 cup moong beans.

Drizzle 1/4 cup curd over each plate.

Drizzle 2½ tablespoons date tamarind chutney over each plate.

Lightly sprinkle 1/4 cup sev over each plate.

Top each plate with 1½ tablespoons green chutney. Papri Chaat is ready for serving. Enjoy it immediately.
Tips and Variations:
Increase or decrease the amount of all chutneys and sev according to your preference.
Add chopped tomato and boiled sweet corn before topping with curd for variation.
To make it more spicy, add garlic chutney.
You can also prepare this chaat without adding chickpeas and green moong beans.
Papadi is easily available in grocery stores in India, you can either use ready-made ones or make it at home.
To serve this snack in a party, prepare all chutneys and curd in advance, and store them in refrigerator. Prepare all the ingredients and keep them in separate serving bowl. Assemble plates only at the time of serving to prevent it from turning soggy.
Taste:
 Mild sweet, sour and spicy taste with nice crunch.
Serving Ideas:
 Savor this chaat as an evening snack.