Aloo Chaat, this popular street food from North India is one of the easiest chaats to make at home. This spicy chaat is a perfect food to serve in the party as it can be prepared in advance and served as a snack, starter or appetizer. Potato cubes are deep fried or shallow fried until crispy and then tossed with basic chaat chutneys like khajur imli chutney and green coriander chutney and finally topped with onion, curd, sev and spices. Traditionally raw potato cubes are deep fried until crispy, but in this recipe, we have shallow fried the boiled potato cubes to use less oil and make it healthy.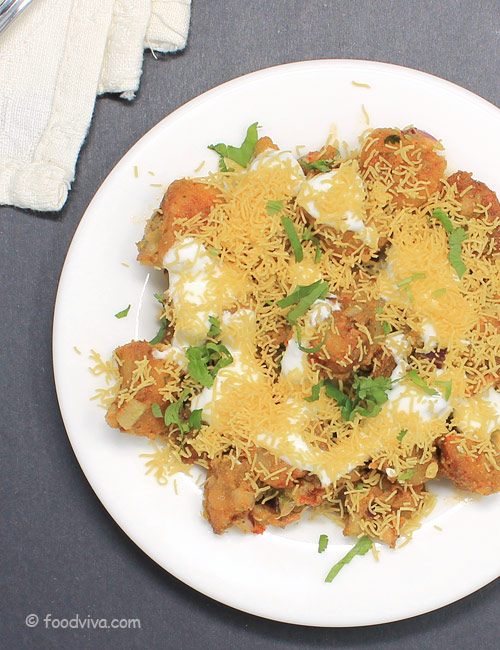 In different regions of India, there are variations in making this chaat. In all variations, fried aloo cubes are the base ingredient but variation in chutney toppings and other chaat ingredients. In some regions, it is served as a simple aloo chaat by mixing all the ingredients given below except for the onion, curd and sev. Follow the below given recipe with step by step photos to make this savory potato snack as per your preference and availability of ingredients.
More Snacks Recipes
Preparation Time:
10 minutes
Ingredients:
2 medium potatoes, boiled, peeled and cubed (1½ cups)
1/2 teaspoon Red Chilli Powder
1/2 teaspoon Cumin-Coriander Powder, optional
1/2 teaspoon Chaat Masala Powder
1 teaspoon Lemon Juice
1/4 cup finely chopped Onion (1/2 small Onion), optional
1 tablespoon Green Coriander Chutney, optional
1½ tablespoons Sweet Tamarind Chutney (mithi khajur imli ki chutney)
4 tablespoons (1/4 cup) Curd, whisked
2 tablespoons Sev
2 tablespoons finely chopped Coriander Leaves
Salt to taste
1½ tablespoons Oil
Note:
If you don't want to use oil, skip step-1 (shallow frying potatoes).
Add salt while boiling the potatoes to get the evenly salty taste.
Boil the potatoes until soft but not mushy. If possible, boil them 1 hour in advance to prevent them from breaking while making the chaat.
Directions:
Heat 1½ tablespoons oil a non-stick frying pan. Add boiled and cubed potatoes and shallow fry them until light golden brown and crispy. If you prefer, you can deep fry the potatoes instead of shallow frying.

It will take approx. 4-5 minutes to turn light golden brown over medium flame. Stir in between occasionally to fry them evenly. Use a non-stick pan to use less amount of oil and prevent sticking.

Transfer them to a large bowl.

Sprinkle 1/2 teaspoon red chilli powder, 1/2 teaspoon cumin-coriander powder and 1/2 teaspoon chaat masala powder over it.

Add 1 teaspoon lemon juice.

Mix well so the potato pieces coated well with masala.

Add 1 tablespoon green coriander chutney, 1½ tablespoons sweet tamarind chutney and 1/4 cup (4 tablespoons) finely chopped onion over it.

Mix well.

Transfer them to two individual serving bowls or plates.

Pour 2 tablespoon curd over potatoes in each bowl.

Garnish with sev and coriander leaves. Aloo Chaat is ready for serving. Serve it hot and enjoy.
Tips and Variations:
For best taste, serve it hot.
For better taste, deep fry potato cubes instead of shallow frying them.
Adjust the amount of chutneys and spices powder as per your taste.
For variation, garnish with pomegranate seeds, cashew nuts and raisins.
To serve this chaat in get together or party, keep all the chutneys and other ingredients ready in advance. Shallow fry potato cubes at the time of serving OR deep fry them until half done and then again deep fry them at the time of serving. Then assemble the chaat.
Taste:
 Spicy, salty, mild sweet and mild tangy
Serving Ideas:
Serve aloo chaat with your favorite
milkshake
as afternoon snack or after school snack to kids.