Mini idli sambar, the perfect bite size small idlis dipped into the hot vegetable sambar is the perfect combo to serve in the breakfast or lunch. Mini idli is the smaller version of soft and spongy round shaped steamed regular
rice idli
, also known as button idli and cocktail idli. The taste and procedure to make this snack are exactly the same as we make traditional rice idli except for the idli mould (idli stand) used to make this has smaller round shapes.
These perfect bite size small idlis can be easily dipped into the sambar and so they are perfect to serve to kids in the lunchbox. Not only that, just mix them with the tempering mixture (tadka) of mustard, curry leaves and cumin seeds like
rava dhokla
and they are ready to serve in the breakfast with a cup of tea or to pack in the kids lunchbox. If the idli batter is ready, then it would hardly take 15-20 minutes to make the mini idlis at home by following this illustrative recipe with step by step photos.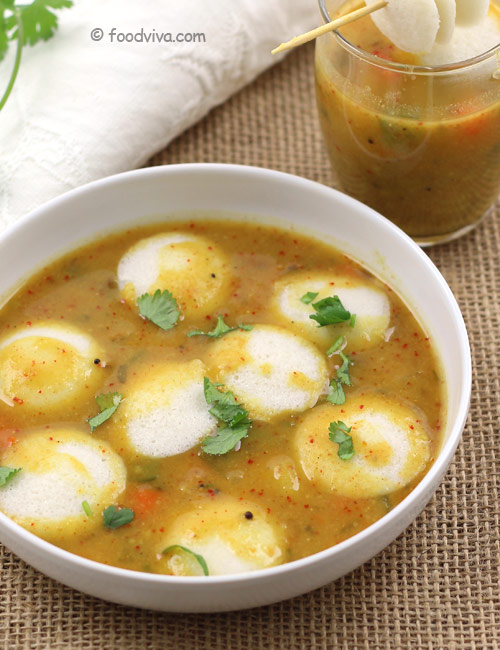 More Snacks Recipes
Directions:
If the batter is in the refrigerator, take it out from the refrigerator at least 30 minutes before making idlis (bring it to room temperature). If the batter has no salt, add salt to it and mix well.

Pour 1-2 glasses water in a wide and deep pan or in a dhokla/idli steamer and place it on the stovetop over medium flame. Place a stand inside it (if the mould has the attached base stand, no need to place the stand).

Grease the idli mould with oil.

Pour batter into each mould using a spoon.

Place the idli stand inside the pan/steamer. Cover the pan with a lid and steam it over medium flame for 7-8 minutes.

Remove the lid and check the idlis by inserting a toothpick in the center. If it comes out clean, it means it is cooked perfectly.

Let it cool for 3-4 minutes. Remove them using a spoon. They will come out easily. Transfer them to a plate or a casserole and cover with a lid to keep them hot. Serve hot idlis with

vegetable Sambar

and coconut chutney.
Tips and Variations:
To serve them as a party snack (like dhokla), mix them with the tempering mixture (tadka) of mustard seeds, curry leaves, cumin seeds and coriander leaves like dhokla
To make the small colourful idlis for kids-

For orange idlis – grind 1 cup idli batter with 1 grated carrot.
For green idlis – grind 1 cup idli batter with 1/2 cup lightly packed spinach (or coriander leaves).
For pink idlis – grind 1 cup idli batter with ¼ cup grated beetroot.
For yellow idlis – mix turmeric powder with idli batter.
Serving Ideas:
 Serve idlis with vegetable sambar and
green coconut chutney
in the breakfast or as a light evening food in the dinner.