Rava toast (sooji toast) is a perfect snack item to serve in the morning breakfast or as an afternoon tea time snack. The process of making this toast is very simple and takes no more than 15-20 minutes. You just need rava (sooji), capsicum, tomato, onion, curd and bread of your choice. Mix all the ingredients except bread to make rava-veggie mixture and then spread this mixture on bread slices and shallow fry them until golden brown and crisp to make rava toast. Make this simple toast at home by following the given step by step recipe and enjoy it in the morning breakfast.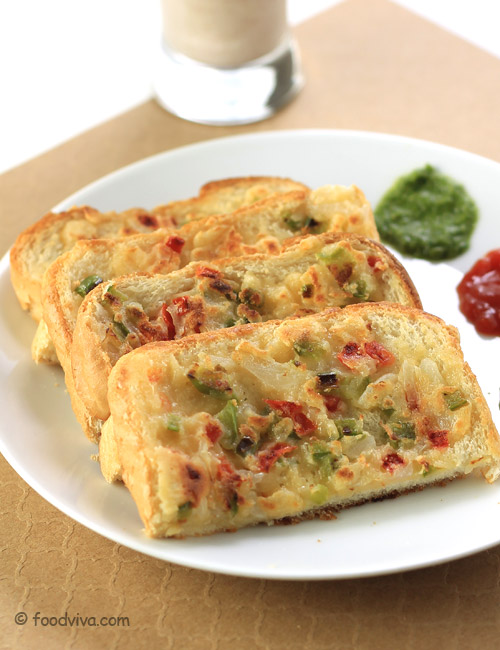 More Snacks Recipes
Preparation Time:
 10 minutes
Ingredients:
4 Bread Slices
1/4 cup Rava (sooji/semolina)
2 tablespoons finely chopped Capsicum
2 tablespoons finely chopped Tomato
2 tablespoons finely chopped Onion
1/2 Green Chilli, finely chopped
2 tablespoons Curd (plain yogurt) or Malai or Cream
1-2 tablespoons Oil
Salt to taste
Directions:
Take 1/4 cup rava in a medium bowl.

Add 2 tablespoons finely chopped capsicum, 2 tablespoons finely chopped tomato, 2 tablespoons finely chopped onion and 1/2 finely chopped green chilli.

Add 2 tablespoons curd (plain yogurt) and salt.

Mix all ingredients properly using a spoon. Don't add any water.

Take bread slices and spread rava-veggie mixture thinly and evenly on each slice. Don't spread it too thick else the toast will not turn crispy.

Heat 1/2-1 teaspoon oil for each bread slice in a tava over medium flame.

Place the bread slices on tava, keeping rava-veggie mixture side down.

Cook on low flame until bottom surface turns golden brown in color. Flip bread slices.

Cook another side on low flame until it turns crispy and golden brown in color (as shown in the photo). Flip it. Don't cook it on medium flame else the bread will turn golden brown fast but remains soft.

Transfer shallow fried bread slices to a plate. Rava toasts are ready for serving. Cut them into desired shapes and serve immediately with tomato ketch up and a cup of hot tea/coffee.
Tips and Variations:
Serve the rava toasts when they are hot as they will turn soggy when cools down.
Add a pinch of red chilli powder while preparing the rava-veggie mixture in step-3 to get nice golden color of toast.
If you are preparing rava toasts in large quantity, don't spread rava-veggie mixture on all the bread slices at the same time, as the bread slices will turn soggy. Just spread the mixture on 2-3 slices (depending on the size of tava) and while the first batch is cooking, spread the mixture on another 2-3 bread slices for next batch.
If you are preparing this for kids, don't add green chilli.
Taste:
 Mild crispy and mild spicy
Serving Ideas:
 Serve rava toast (sooji toast) as alone or with a cup of tea /coffee in the breakfast. They also taste best with tomato ketchup and mint flavored yogurt dip (mint raita) as an afternoon snack.