It is a traditional dish of Guajarati cuisine generally prepared with dals (lentils) and wheat flour as base ingredients. It has soft textured dhokli submerged in semi thick dal like lentil gravy and has mild sweet and spicy taste of aromatic spices and crunchy peanuts. Apart from being easy to prepare, healthy and stomach filling, this dal dhokli is capable of carrying entire meal on its own, which means that it can be served all by itself and one wouldn't care for anything in accompaniment. Delicious!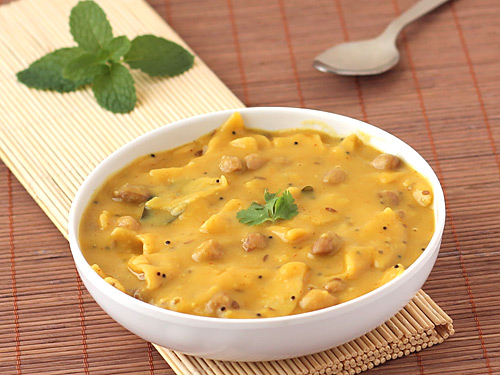 More Gujarati Recipes
Preparation Time:
15 minutes
Ingredients:
1/2 cup Toovar Dal (split pigeon peas)
3 tablespoons Peanuts
1/2 cup  Wheat Flour + for dusting
1/2 teaspoon Carom Seeds (ajwain) (optional)
1 tablespoon Chickpea Flour (gram flour)
1/4 teaspoon + 1/4 teaspoon Turmeric Powder
1/2 teaspoon + 1/2 teaspoon Red Chilli Powder
1/2 teaspoon Coriander Powder
1/2 teaspoon Mustard Seeds
1 teaspoon Cumin Seeds
A pinch of Asafoetida
1 Dry Red Chilli, broken into two pieces
1 sprig Curry Leaves
3 teaspoons Lemon Juice
2-2½ teaspoons Sugar
3 teaspoons Oil
1½ cups + 3 cups Water
Salt
2 tablespoons chopped Coriander Leaves, for garnishing
Directions:
Rinse toovar dal in running water and add it in the 3/4 liter steel or aluminum pressure cooker. Add 1½ cups water and salt in it. Take peanuts in a small steel bowl and place it on the dal in a cooker. Close the lid and pressure-cook it over medium flame for 3-whistles. Remove cooker from flame and let it stand idle until pressure subsides naturally for approx. 5-7 minutes.

While dal is cooking, prepare dough for dhokli. Take 1/2 cup wheat flour, chickpea flour, carom seeds, 1/4 teaspoon turmeric powder, 1/2 teaspoon red chilli powder, 1/2 teaspoon coriander powder, 1-teaspoon oil and salt in a wide mouthed bowl. Add water as required in small quantities and knead a little stiff but smooth dough (like paratha dough). Cover with a cloth and let it settle for 10 minutes.

Open the lid of pressure cooker, remove the bowl having peanuts and keep it aside.

Transfer dal to a deep bowl or just keep it inside the cooker and blend it into smooth puree using hand blender. Add 2-cups water and blend again for 5-10 seconds.

Heat 2-teaspoons oil in a large kadai or pan over medium flame. Add mustard seeds and allow them to splutter. Add cumin seeds, asafoetida, dry red chilli and curry leaves and allow cumin seeds to sizzle. Add 1/4 teaspoon turmeric powder and 1/2 teaspoon red chilli powder and mix well.

Add pureed dal, 1-cup water, boiled peanuts, lemon juice, sugar and salt. Bring it to boil over medium flame and then reduce flame/heat to low and cook for 5-7 minutes.

Meanwhile, divide dough into 4-equal portions and give them a round shape. Take one dough ball, give it a shape like pattie and put it over rolling board. Dust little flour, roll it out into a thin circle of 7-8 inch diameter and transfer to a plate. Repeat the step for remaining dough balls.

Take one rolled circle over rolling board and cut it into multiple small diamond shapes using knife or cutter. These pieces are known as "Dhokli".

Slowly add all diamond shaped pieces (12-14 pieces at a time) into boiling dal and increase flame to medium and cook for a minute or two. Add next batch of diamond shaped pieces after 1-2 minutes. Stir occasionally in between.

Repeat the process with remaining rolled circles, cut them into pieces and add into dal. After adding all pieces, cook them over medium flame until dhokli does not taste raw, about 8-10 minutes. Stir occasionally in between.

Turn off flame and transfer it to a serving bowl or deep serving plate. Garnish with fresh coriander leaves and serve hot or warm.
Tips and Variations:
Adjust sugar and lemon juice according to your taste.
Dal will get thicker as it cools hence serve it hot.
Do not add too many pieces together in step-9 otherwise they may stick together.
Taste:
 Mild spicy taste with soft texture
Serving Ideas:
 Serve Gujarati dal dhokli with curd in lunch or dinner. It can also be served with steamed rice, papad and buttermilk. It is an ideal comforting food for people having toothache or recovering from illness as it combines goodness of both roti and dal into one.