If you have ever visited garba venue during festival of Navaratri or any consumer fair in Gujarat, you would have noticed a stall selling white dough like stuff in a cup with ice cream spoon. It is known as "Khichu" in Gujarati and actually a dough from which traditional papads are prepared. However, this dough alone is so delicious with groundnut oil that people eat it as a snack.

Khichu can be prepared from various types of flours like rice flour, wheat flour, bajri flour, nachani flour, jowar flour etc. However this recipe uses the rice flour which is slowly added to the mix of green chilli, cumin seeds and sesame seeds in boiling water until thick like soft dough and then cooked with a steam.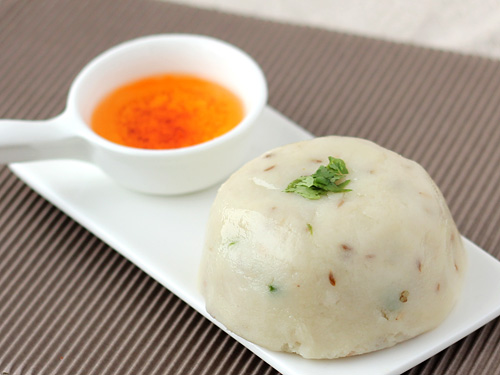 More Gujarati Recipes
Preparation Time:
3 minutes
Ingredients:
1 cup Rice Flour
2½ cups Water
1 teaspoon Cumin Seeds
1 teaspoon Sesame Seeds
2 Green Chillies, crushed
1/8 teaspoon Baking Soda (soda bi-carbonate)
Salt to taste
1½ tablespoons Peanut Oil (for greasing and serving)
2 tablespoons Fresh Coriander Leaves
Directions:
Take 2½ cups water in a deep pan. Add cumin seeds, sesame seeds, green chillies, baking soda and salt and boil it over medium flame for a minute.

Now gradually add rice flour (1-2 tablespoons at a time) while stirring continuously using wooden spatula.

As the flour is getting mixed with water, it will start to thicken. Make sure that there are no lumps of flour. Slowly add and mix entire rice flour and it will start getting soft dough like consistency.

Cook for a minute and turn off flame. Transfer it to a plate.

Pour 1-glass water in steamer and bring it to boil over medium flame. (If you do not have steamer then take a deep vessel and boil water in it.)

Place prepared dough in a steamer container, place it inside the steamer, cover with a lid and steam-cook for about 8 minutes. Turn off flame, open the lid and let it cool for 2-3 minutes. (If you are not using steamer then take prepared dough in colander and place it over deep vessel having boiling water in it. Cover it with a plate and steam cook for about 8 minutes. Turn off the flame, remove plate and allow it to cool for 2-3 minutes)

Grease 4-individual cups with peanut oil. Divide prepared rice flour khichu into 4-portions and transfer it to individual serving cups. Garnish with chopped coriander leaves and serve hot with raw peanut oil (add little red chilli powder in it for spicy taste).
Tips and Variations:
Serve it hot for a better taste.
You can serve it with any cooking oil but peanut oil has a specific flavor and it enhances the taste.
For variation, you can use wheat flour or equal amounts of both rice flour and wheat flour together.
Taste:
Mild spicy, salty taste with soft and smooth texture
Serving Ideas:
Savor it in the breakfast or with peanut oil as a snack.