It is a delicious and healthy Gujarati dish suitable for diabetic patients generally prepared during cold winter season for evening snack or dinner and served with curd. This bajri dhebra recipe is more or less similar to any Indian flat bread – the cutlets or vadas made from dough of millet flour (bajri flour), methi leaves and spices are deep-fried or shallow fried. This recipe explains both deep-fry and shallow-fry methods.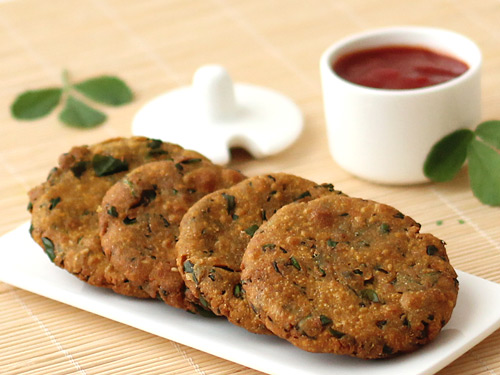 More Gujarati Recipes
Preparation Time:
15 minutes
Serves:
3 servings (15 pcs)
Ingredients:
1½ cups Millet Flour (bajri flour)
1 cup chopped Fresh Fenugreek Leaves (methi leaves)
2-3 Green Chillies, finely chopped (optional)
1 teaspoon Coriander Powder
1 teaspoon Red Chilli Powder
3/4 teaspoon Turmeric Powder
1/4 cup Curd (yogurt)
1/2 tablespoon Sesame Seeds (optional)
Salt to taste
Oil, for deep frying
Directions-1 (Deep Fry Method):
Mix millet flour, chopped fenugreek leaves, coriander powder, red chilli powder, turmeric powder, curd, sesame seeds and salt in a large bowl.

Add water in small quantities and knead a little stiff and smooth dough like paratha dough.

Grease your palms with oil. Pinch a lemon sized portion from dough and give it a ball like shape. Prepare balls (approx. 15-balls) from remaining dough.

Flatten each ball into 3-inch diameter circle (approx 2/3rd cm thick) by pressing between palms or against any hard surface and transfer to a plate. Alternatively, you can also roll it over plastic sheet on rolling board.

Heat oil in a frying pan over medium flame. When it is medium hot, slide 3-4 flattened circles into it and fry until they turn light golden brown on both sides.

Transfer them to plate and preferably put them on oil absorbent paper to soak excess oil. Deep-fry remaining dhebra.

Methi na dhebra (vada) are ready for serving. Serve them hot with curd and pickle in dinner or with tea as healthy evening snack.
Directions-2 (Shallow Fry Method):
Add additional 1/2 cup wheat flour with other dough ingredients while preparing dough (refer step-1 above). Divide dough into 10 equal portions and give them a round shape. Take one dough portion and place it on rolling board.

Roll it out into 6-7 inch diameter circle (like paratha) after sprinkling some dry flour over it. (Dry flour will prevent dough from sticking to rolling board and pin)

Heat non-stick tava or griddle over medium flame and place rolled circle on it. Flip and spread 1/2-teaspoon oil on each side and shallow fry it until light brown spots appear on both sides (like plain paratha).

Bajri na Dhebra are ready to serve with tea.
Tips and Variations:
Add 4-5 cloves garlic (crushed) while preparing dough for a nice garlic flavor.
Serve them hot for crispy taste.
Taste:
Mild spicy with crisp outside soft inside texture.
Serving Ideas:
It is a best and healthy food for diabetic person to serve in dinner.