Khakhra is a traditional Gujarati snack which is healthy, crispy and delicious on its own or with pickle or curd. The secret of making best diet methi khakhra lies in rolling thinnest possible roti and cooking on low heat while continuously pressing it with wooden press or folded cloth. Diet khakhra prepared with this recipe gets its delicious flavor from kasoori methi, which is added while preparing its dough.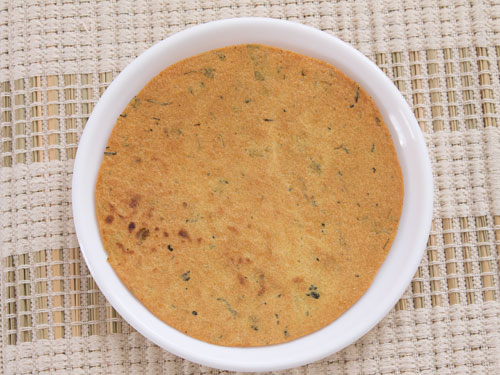 More Snacks Recipes
Preparation Time:
5 Minutes
Serves:
6-7 pieces (2-3 servings)
Ingredients:
1 cup (for dough) + 1/2 cup (for dusting) Whole Wheat Flour
1½ tablespoons Kasoori Methi (Dried Fenugreek Leaves)
Salt to taste
2 teaspoons Cooking Oil
Water
Directions:
Mix 1 cup whole-wheat flour, kasoori methi, 1 teaspoon oil and salt in a bowl.
Add water as required and knead smooth and soft dough like chapati/phulka roti dough. Cover it with a plain muslin cloth and let it rest for 15-20 minutes.
Grease its surface with 1 teaspoon oil, divide it into 6 equal parts and give them a shape of ball.
Take one ball, press it and coat it with dry whole-wheat flour.
Roll it out into very thin circle (like chapatti) on a wooden board (chakla/patlo). Dust dry wheat flour as mush as required to prevent dough from sticking to board. Roll it out as thin as possible.
Heat thick tava or non-stick griddle on low heat. Put chapatti on it and cook for 20-30 seconds. After 20-30 seconds, turn it and press it using wooden press or folded thick cloth. Press down each part of chapati with it to make sure that no bubbles appear and cook for around 40-50 seconds.
Flip it and repeat same process of pressing and cooking with wooden press/folded cloth until it becomes crispy. Make sure to cook on low heat to roast it evenly without any dark brown spots.
Prepare remaining khakhras.
Cool them for 10-15 minutes at room temperature and store in airtight container.
Tips and Variations:
We haven't used oil to roast it in this recipe to keep calorie count low but you can use small amount of it, if preferred.
For variation, you can add chat masala and cumin seeds in place of dried fenugreek leaves to make jeera khakhra.
Replace kasoori methi with 2 teaspoons ginger-garlic paste for nice ginger-garlic flavor.
Serving Ideas:
Serve them with tea as afternoon snack. Enjoy it in the breakfast with curd. Spread ghee and and dry chutney powder and enjoy it just like that. Crushed khakhra can be used for preparing bhel, chat and chevdo.