Avocado toast is simple and easy to prepare healthy stomach feeling food for breakfast and snack. Just spread the creamy mashed avocado on the crispy toasted bread slice and then season it with red chilli flakes, lemon juice, salt and olive oil or the toppings of your choice (see
tips section
for more topping ideas), and your avocado toast will be ready. Serve it immediately and enjoy!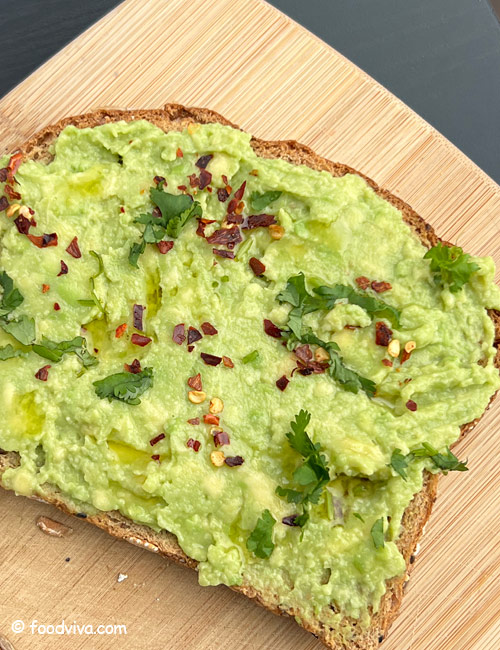 More Breakfast Recipes
Preparation Time:
3 minutes
Ingredients:
2 slices of Bread (preferred Whole Grain Bread)
1 Ripe Avocado
1/4 teaspoon Salt (or to taste)
1/2 to 3/4 teaspoon Lemon or Lime Juice
Toppings
1/4 teaspoon Red Chili Flakes (or A pinch of freshly ground Black Pepper)
1 teaspoon finely chopped fresh Cilantro or Parsley
1 teaspoon Olive Oil, optional
Note:
How to Check Avocado Is Ripe or Not? – When the avocado is soft to the touch (and the color changes from green to purple, only for hass avocado variety), it is ripe. If it's hard or firm to touch then it's not ripe yet.
Tip to Store Avocado – When it ripens, remove the brown stem and check the area under the stem. If it looks green, then it's perfect. If it looks brown that means it is overripe and you might find brown strings or brown spots inside. Store the ripened avocado (don't forget to remove the stem) in the refrigerator to increase the shelf life. It stays good for almost a week.
Directions:
Toast the bread until golden brown in a toaster or in a pan until crispy. If you are using a pan, spread some olive oil or butter in a pan and then put a bread slice over it.

Once the bottom surface turns golden and crispy, flip it and toast another side as well over medium flame. Transfer them to a plate.

We need all these ingredients as shown in the picture to make the toast. Choose the ripe avocado which is a little soft to the touch. Don't choose the avocado which is mushy or too soft to touch.

Cut it into half and remove the pit.

Scoop out the flesh and put it in a bowl. If there is any bruised or brown parts, remove them.

Mash the pulp with a fork until creamy or a little chunky (as per the texture you like). Add salt and lemon juice and mix well. Taste it and add more salt or lemon juice if required.

Spread the mashed avocado on a toasted bread.

Season it with red chili flakes (or freshly ground black pepper), finely chopped cilantro (or parsley) and 1/2 teaspoon olive oil.

You can also season it with chia seeds, sesame seeds, pumpkin seeds (or sunflower seeds), cilantro and olive oil. Serve it immediately and enjoy.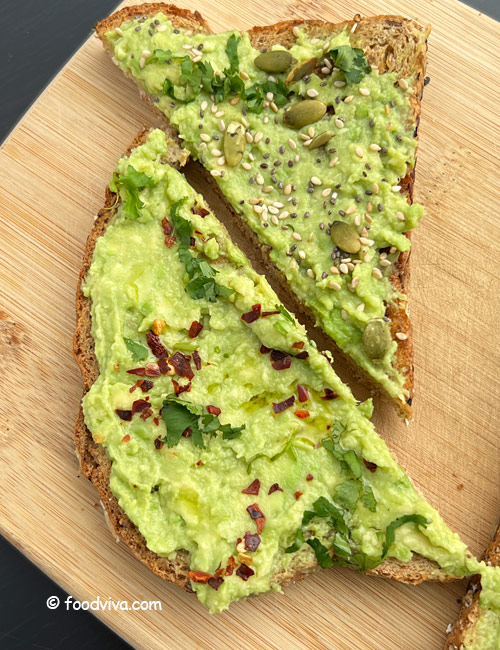 Tips and Variations:
For best avocado toast, use thick sliced multi grain or whole wheat bread.
If possible, mash the avocado instead of slicing it for a creamy texture.
Either add salt and lime/lemon juice to the mashed avocado or sprinkle it on the top of the toast along with other toppings of your choice.

What to Put on Avocado Toast?

Either mix the Fresh or Dried Leafy Herb (cilantro, basil, parsley) with the mashed avocado or sprinkle them on top of the toast.
Mix a pinch of garlic powder or a pinch of fresh grated garlic with mashed avocado.
Sprinkle some sesame seeds, sunflower seeds or chia seeds on top of the toast.
Top the avocado toast with fresh mozzarella, tomato, basil and balsamic vinegar.
Serving Ideas:
Serve avocado toast in the breakfast or lunch.