Chilli Cheese Toast, a delicious starter which is similar to cheesy garlic bread but this one is more crispy and spicy. This toast is topped with green chilli, green capsicum and cheese along with other seasonings and hardly takes 10-15 minutes from start to end to make at home. If you want to make these for party then you can prepare the cheese mixture one day in advance and keep it covered in the fridge. Make toasts at the time of serving or make them a few hours ago and then reheat them in preheated oven for 3-4 minutes at 200C(400F) just before serving.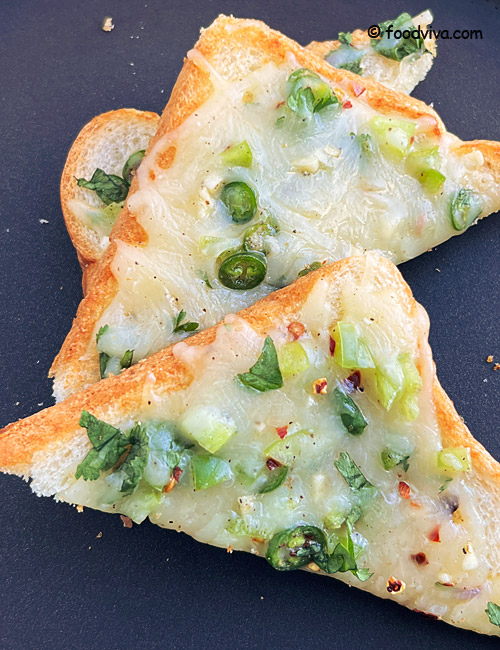 Preparation Time:
5 minutes
Ingredients:
4 Bread Slices (white or brown bread)
1 cup shredded Mozzarella Cheese or Processed Cheese or White Cheddar Cheese
1-2 Green Chilli, finely chopped (more or less as per your taste)
1-2 cloves of Garlic, finely chopped or grated
2 tablespoons finely chopped Green Bell Pepper(capsicum), optional
2 tablespoons finely chopped Coriander Leaves (cilantro/hara dhania), optional
1/4 teaspoon Black Pepper Powder
1/4 teaspoon Red Chilli Flakes, optional
Salt, to taste
1 tablespoon Butter or Oil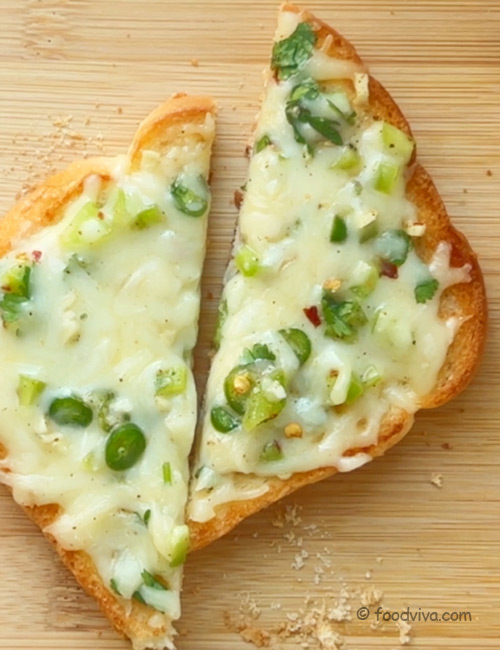 Directions:
We will need all these ingredients to make this cheese toast.

Take 1 cup shredded mozzarella cheese or processed cheese or white cheddar cheese in a large bowl. Add 1-2 finely chopped green chilli, 1-2 cloves of finely chopped garlic, 2 tablespoons finely chopped coriander leaves and 2 tablespoons finely chopped green bell pepper (capsicum), 1/4 teaspoon black pepper powder, 1/4 teaspoon red chilli flakes and a pinch of salt.

Mix well.

Toast only one side of bread slices on a pan or tawa over medium flame with butter or oil until crispy. It will take 1-2 minutes. Turn off the flame. Remove the bread slices and spread some butter or oil on the pan or tawa. Again put bread slices on tava keeping toasted side up on the tawa. (Don't turn on the gas.)

Spread the mixture evenly on the toasted bread side.

Turn on the gas over low flame. Cover them with a lid.

Toast them over low flame until bread is crispy and cheese is melted, it will take around 3-4 minutes. Don't toast it on high flame to prevent the brad from burning.

Transfer them to a plate and cut it into half. Serve Chilli Cheese Toast with ketchup or green chutney.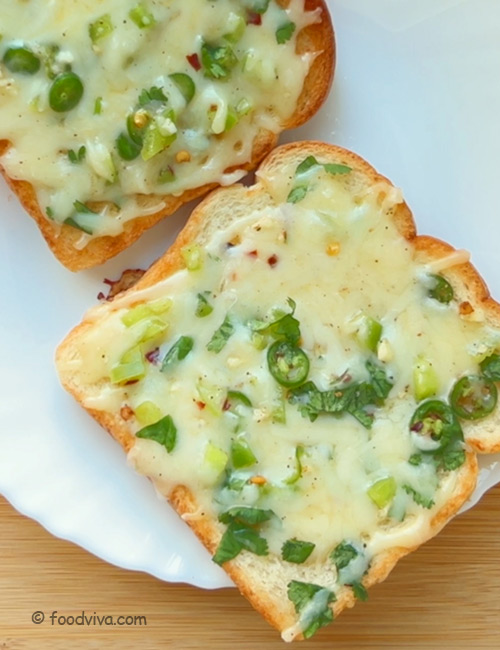 Tips and Variations:
How to Cook in Oven – Bake it in preheated oven at 200C (400F) for 4-5 minutes or until the cheese is melted.
You can use shredded mozzarella cheese or processed cheese or white cheddar cheese as per the availability.
Don't skip adding green chilli and black pepper powder as they taste best with cheese.
For variation, add finely chopped onion, red/yellow/orange bell pepper or 1/4 teaspoon dried oregano or pizza seasoning.
When you make this for kids, use only green bell pepper and skip adding green chilli.
Taste:
  Crispy and Spicy
Serving Ideas:
  Serve chilli cheese toast as an afternoon snack or as a starter with green chutney or tomato ketchup.