A delicious and healthy avocado sandwich is an easy to make stomach filling quick food for lunch or dinner. Whether you are an expert or a beginner in cooking, you can make this vegetarian and vegan friendly sandwich within 15 minutes. Not only that, you can customize it as per your preference as well. Use creamy mashed avocado, fresh veggies like onion, tomato, cucumber, lettuce and cheese to make this super tasty sandwich.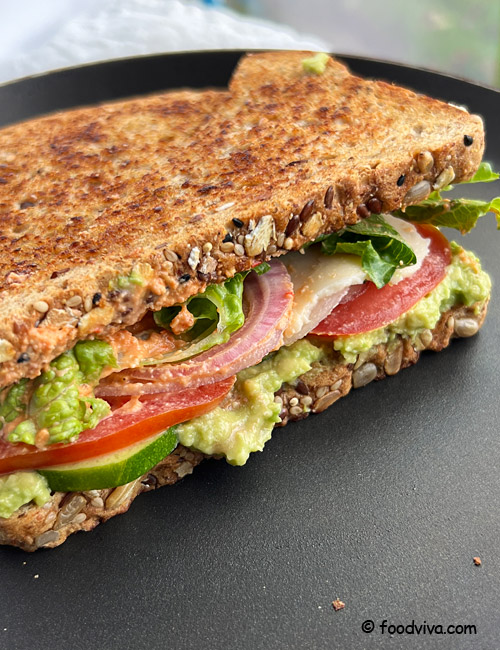 More Healthy Recipes
Preparation Time:
10 minutes
Ingredients:
2 slices of Bread (Whole wheat multi grain bread or White bread or sour dough bread)
2-3 tablespoons Roasted Red Pepper Dip, or Hummus or Mayonnaise
1/2 Ripe Avocado
1/2 teaspoon Lemon Juice (or lime juice)
Salt, to taste
4-6 slices of Cucumber (or zucchini)
2 leaves of lettuce
4 slices of Tomato
3-4 slices of Onion
1 slice of Cheese Slice, optional
1-2 tablespoons Butter or Oil, for toasting the bread
Note:
You can make this sandwich without roasted red pepper dip also. The sandwich made without roasted red pepper dip also tastes delicious but personally, I prefer to add red pepper dip. If you don't want to make this dip, skip step 2.
Directions:
We need all these ingredients to make a sandwich.

Prepare the roasted red pepper dip by following this

recipe

.

Spread some oil or butter on a pan or tawa and toast the bread slices over medium flame. Once the bottom side turns golden and crispy, flip it and toast another side as well. It will take approx. 2-3 minutes total time. Transfer them to a plate.

Remove the pit from the half avocado. Scoop out the flesh using a spoon into a bowl. Discard any bruised or brown spots.

Add 1/2 teaspoon lemon juice and salt. Mash the avocado with a fork until a little chunky or creamy as per your preference. Taste the mixture and add more salt or lemon juice if required.

Take 1 toasted bread slice and spread mashed avocado mixture on one side.

Put 4-6 sliced zucchini (or cucumbers) and 4 sliced tomatoes on top of the bread slice having avocado mixture.

Put 4 slices of onion and sprinkle some salt over it.

Put 1 slice of cheese and 1-2 leaves of lettuce on top of that.

Take the remaining toasted bread slice and spread red pepper dip on one side.

Put bread slice topped with red pepper dip on top of lettuce. Cut it into half and serve. Avocado Sandwich is ready for serving.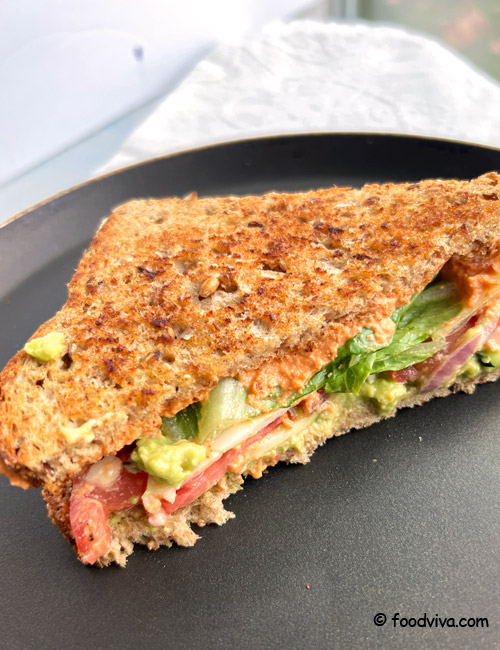 Tips and Variations:
To make a vegan sandwich, skip adding a slice of cheese.
You can use any type of bread to make this sandwich but toasted whole wheat bread tastes best.
This sandwich tastes also good with avocado mixture, onion and tomato.
For Variation, add sliced bell pepper or pickled cucumber.
If you are using only avocado mixture (not using red pepper dip or hummus or mayonnaise), make sure that it has a little more lemon juice and salt to get the perfect taste in sandwich.
Serving Ideas:
Serve an avocado sandwich for lunch or dinner.