Juicy sweet corn kernels are used in many recipes and commonly found in salads. Corn salad is one such simple recipe where sweet corn kernels are mixed with various fresh vegetables and herbs and sprinkled with pepper and salt. It is also a great accompaniment for lunch and dinner.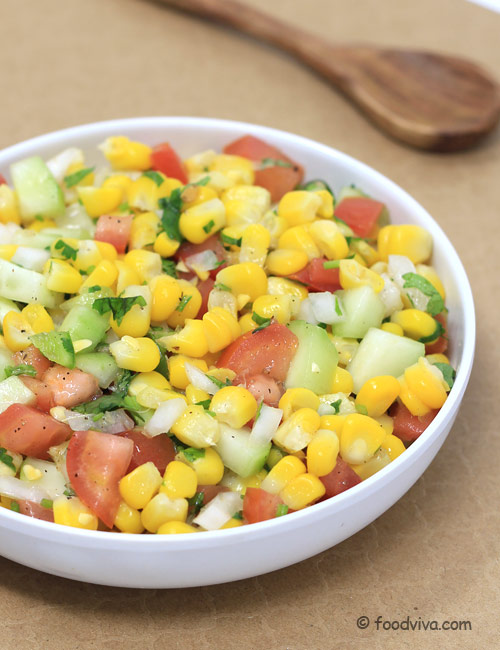 Preparation Time:
15 minutes
Ingredients:
1 cup fresh or frozen Corn Kernels, boiled (approx. 1 large Corn Cob)
1/3 cup diced Cucumber
1/3 cup diced Tomato, (1 medium tomato)
2 tablespoons diced Onion
1 Green Chilli, finely chopped
2 tablespoons finely chopped Cilantro (Coriander Leaves)
1 tablespoon Olive Oil, optional
1 tablespoon Lemon Juice (or Lime Juice)
1/4 teaspoon Black Pepper Powder
Salt to taste
Directions:
Boil the corn in salted water in a pressure cooker for 4-whistles over medium flame or grill the corn. Let them cool to room temperature.

Remove corn kernels from the corn using a sharp knife and transfer them to a large bowl.

Add diced cucumber, diced tomato, diced onion, chopped green chilli and cilantro(coriander leaves).

Pour 1 tablespoon lime juice over it.

Pour 1 tablespoon olive oil over it.

Sprinkle 1/4 teaspoon black pepper powder and salt to taste.

Toss gently to mix well. Corn salad is ready. Serve it as an accompaniment.
Tips and Variations:
For variation, sprinkle your choice of cheese over salad.
You can also use the canned corn instead of fresh one for this recipe.
Taste:
Salty and Mild Sweet
Serving Ideas:
Serve Corn salad as an accompaniment with any meal.