Ven Pongal is a savory south Indian breakfast food which is made using rice and yellow moong dal, tempered with cumin seeds, black peppercorns, ginger, curry leaves and ghee and garnished with cashew nuts.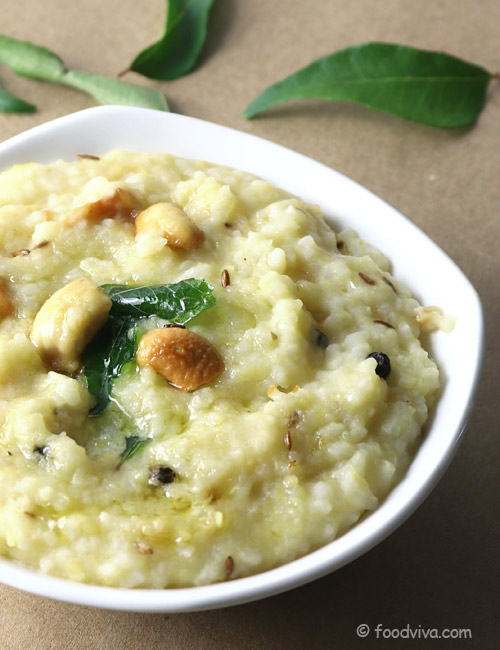 Traditionally it is prepared during the harvest festival "PONGAL". It is well-known in South India, mainly in Tamil Nadu and also known as kara pongal in Karnataka. Ven means spicy and pongal means boiled over. A soft lentil-rice mixture is cooked in a simple way and makes a comfort food when served with
mixed vegetable sambar
and
coconut chutney
in the breakfast.
More South Indian Recipes
Preparation Time:
5 minutes
Ingredients:
1/4 cup Rice (short grained rice)
1/4 cup Moong Dal
2 cups Water
Salt to taste
1½ tablespoons Ghee
6-8 Cashew Nuts, broken into pieces
A pinch of Hing (asafoetida)
1/2 teaspoon Cumin Seeds
1/2 teaspoon Black Peppercorns (whole or crushed)
1/2 teaspoon grated Ginger (or finely chopped)
5-7 Curry Leaves
Directions:
Take moong dal in a steel/aluminium pressure cooker (used 3-litre capacity) and roast it over a low flame until it turns slightly light brown. Turn off the flame.

Add rice.

Pour water over rice and moong dal and wash them together for 2-3 times. Drain excess water. Add 2 cups water and salt to taste.

Close the cooker and pressure cook for 4-5 whistles over medium flame. Turn off the flame. Let it cool until pressure releases naturally.

Meanwhile, heat 1½ tablespoons ghee in a small pan over low flame. Add 6-8 cashew nuts and shallow-fry for a minute.

Add a pinch of hing(asafoetida), 1/2 teaspoon cumin seeds, 1/2 teaspoon black peppercorns, 1/2 teaspoon grated ginger and curry leaves. Stir and cook until cashew nuts turn slightly golden. Turn off the flame.

When the pressure releases naturally, open the lid.

Mash the cooked dal-rice mixture with the backside of a spoon until it turns slightly mushy.

Pour seasoning mixture over it.

Mix well and cook for 1-2 minutes. Ven Pongal is ready. Serve it hot with coconut chutney and vegetable sambar.
Tips and Variations:
Don't skip adding ghee as it is a key ingredient to get nice flavor of the pongal.
Dry roast the moong dal in bulk and store the roasted dal in a container to speed up the process.
To speed up the cooking process, soak rice and dal in water for approx. 20-minutes before pressure cooking them and cook for 3-whistles.
Make sure that the moong dal doesn't turn dark brown while roasting it in step-1.
Taste:
 Mild spicy and soft