Gujarati Methi Thepla, a must try lightly spiced paratha like Indian flat-bread is prepared from wheat flour, fenugreek leaves and other spices. The real secret of mouth-watering taste of methi theplas prepared with this recipe lies in making perfect dough, which has just right balance of spices and fenugreek leaves. The ginger-garlic adds nice little spicy aromatic flavor, while turmeric gives tempting color. With perfectly balanced ingredients, detailed steps and tips provided in this step by step photo recipe, you can make it in less than 30 minutes.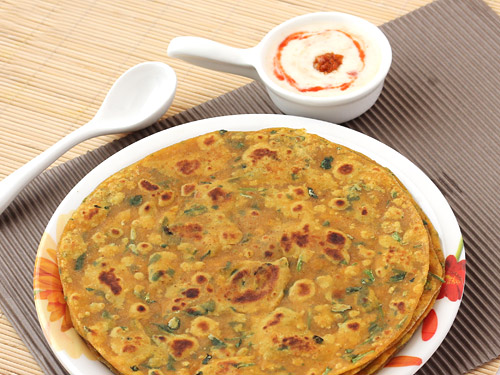 More Gujarati Recipes
Preparation Time:
7 minutes
Serves:
2 servings (7 pieces)
Ingredients:
1 cup + 1/2 cup Wheat Flour
1/2 cup finely chopped Fenugreek Leaves (Methi)
3 tablespoons finely chopped Coriander Leaves
1 tablespoon Curd (yogurt)
1 teaspoon Ginger-Garlic Paste
1 teaspoon Red Chilli Powder
1/2 teaspoon Turmeric Powder
1 teaspoon Coriander Powder
2 teaspoons Oil + for shallow frying
Salt
Water
Directions:
Mix 1 cup wheat flour, fenugreek leaves, coriander leaves, curd, red chilli powder, coriander powder, turmeric powder, ginger-garlic paste, 1-teaspoon oil and salt in a bowl.

Add water as needed in small incremental quantities and knead a smooth and soft dough like roti dough). Grease its surface with 1-teaspoon oil. Cover the dough with a clean muslin cloth or a plate and leave aside for 15-20 minutes. After 15-20 minutes, divide it into 7 equal parts and give them a round shape like ball.

Take 1/2 cup dry wheat flour in a plate for dusting. Take one dough ball, press it in between your palms or against roti making board (rolling board) to flatten it and transform into patty like shape. Coat it with dry wheat flour and place it on a rolling board.

Roll it out into a circle having approx. 6-7 inch diameter (like roti or paratha).

Heat tava/griddle over medium flame. When tava is medium hot, place raw methi thepla on it.

When tiny bubbles appear on the top surface, flip it over, spread 1/2-teaspoon oil evenly on its surface and cook for 30 seconds.

Flip it again, spread 1/2 teaspoon oil evenly on its surface and cook other side as well. Press it against tawa/griddle with a spatula so that it cooks evenly, cook for 20-30 seconds. Repeat flip-press-cook process (without spreading any more oil) until light golden brown spots appear on both sides. Switch between low to medium flame as required while cooking it.

Transfer it to a plate. Follow the same process for remaining dough balls and cook them in a similar way. Gujarati theplas are ready. Serve them hot with masala tea or curd.
Tips and Variations:
Make sure that dough is soft and smooth to prepare soft theplas.
Use wider mouthed bowl to knead dough easily and without creating any mess.
It is a best food for picnic or journey as it stays good for 2-3 days at room temperature.
If you want to keep it for more than 2-3 days, don't add fenugreek leaves, coriander leaves and garlic, instead, add 1/4 teaspoon carom seeds with other ingredients to prepare dough.
Apply small amount of butter or ghee on one side after transferring it to plate and while it's still hot. It will add nice aroma to its taste and make it softer.
Taste:
Soft and mildly spiced.
Serving Ideas:
In Gujarat, it is known as methi na thepla and are traditionally enjoyed with either curd or with Keri No Chhundo (sweet and sour mango pickle). However, like any other parathas, it can be served with all types of curries and particularly tastes best with
jeera aloo
and onion raita.