Kulcha stuffed with spiced grated paneer can be prepared at home by following the similar method as making
stuffed paneer paratha
. Making paneer kulcha at home is a three-stage process. 1) prepare dough 2) prepare stuffing and 3) combine dough and stuffing and cook kulcha. Ideally, they need to be cooked in clay tandoor but that's hardly an option for anyone at home. Hence, this recipe follows an approach to cook them on tawa. However, you can read and follow tips given below to cook it in grill oven or gas tandoor.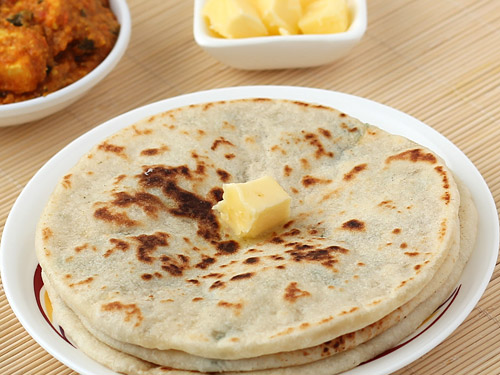 More Roti Paratha Recipes
Preparation Time:
2 hours
Serves:
3 servings (9 pcs)
For Dough:
2 cups Maida (all purpose flour)
3/4 teaspoon Baking Powder
1/2 cup Luke Warm Milk
1 teaspoon Sugar
1/3 teaspoon Salt
3 tablespoons Curd (Yogurt)
2 tablespoons Oil
1 tablespoon Ghee
For Stuffing:
3/4 cup grated Paneer
1/2 teaspoon grated Ginger
2 tablespoons finely chopped Coriander Leaves
2 Green Chillies, finely chopped
1/2 teaspoon Chaat Masala Powder
1/4 teaspoon Black Pepper Powder
Salt
Directions For Making Dough:
Sieve maida in a large bowl. Add baking powder, salt, sugar, milk, curd, ghee and 2 tablespoons oil and mix well.

Add water as required and knead smooth dough. Place dough in a bowl and cover it with a wet cloth. Let it set at room temperature for 2 hours.

After 2 hours, knead it again for 1-2 minutes and divide it into 9 equal portions. Give each portion a round shape of ball. Place them in a bowl and cover with a cheesecloth. Now proceed to make a paneer based stuffing.
Directions For Making Paneer Stuffing:
Take grated paneer, grated ginger, chopped coriander leaves, chopped green chilli, chaat masala powder, black pepper powder and salt in a medium bowl.

Mix well and divide prepared paneer stuffing into 9 equal parts.
Directions For Making Paneer Kulcha:
Take one dough ball and roll it out into small puri like a circle (approx. 4-5 inch diameter) on rolling board using a rolling pin. If required, dust some dry flour over it while rolling to avoid sticking. Put one portion of stuffing (approx. 1½ tablespoons) in the center of the circle. Wrap and enclose it with all sides of the dough circle and seal its top merging point. This process will make a stuffed ball.

Now, gently press it and flatten its surface from top and bottom (like pattie).

Dust rolling board a little and roll it out into 6-7 inch diameter circle (like paratha).

Heat tawa over medium flame. Once it's hot enough, place raw kulcha over it and cook on medium flame for 30 seconds. Flip it and cook for 20-30 seconds. Flip and cook until brown spots appear on the bottom side, flip again and cook until brown spots appear on another side.

Take it away from heat and spread butter or ghee as per your preference. Prepare remaining kulchas in the similar way and serve hot.
Tips and Variations:
Use wheat flour as a substitute of maida or use both flours (wheat and maida) in equal parts to make it healthier.
Spread some black and white sesame seeds on one side of stuffed pattie while rolling it for variation.
This recipe uses salt in both stuffing as well as dough. Make sure that you do not add too much salt in any one of the parts thinking it will compensate for other part.
If you have a grill oven, you can make more delicious paneer stuffed kulcha in it. Pre-heat grill oven to approx. 400 degree Fahrenheit (200 degree Celsius), place raw kulcha in a baking dish and place it inside the oven. Let it cook until top side starts to get brown spots (approx 3-4 minutes). At that point, flip it upside down and cook another side for approx. 2 minutes or until it gets brown spots.
You can also prepare it in gas tandoor as you would normally cook it in clay tandoor.
Taste:
Soft and savory with nice aroma of butter.
Serving Ideas:
Traditionally, paneer kulcha is served with spicy
Punjabi chole masala
. However, it can also be enjoyed with
vegetable kolhapuri
, curd, pickle, papad and green chutney as healthy and stomach filling lunch or brunch. Serve it as an alternative of stuffed aloo paratha to kids.