It is an Indian style shallow fried flat bread, stuffed with a soft mixture of boiled green peas and spices in the middle. The medium coarse texture of butter sauteed filling makes it a delicious treat no matter with which accompaniment you pair it up. Serve stuffed peas paratha in the breakfast or dinner with either nutritious yogurt based raita or pickle and your kids would not get tired of praising your cooking skills!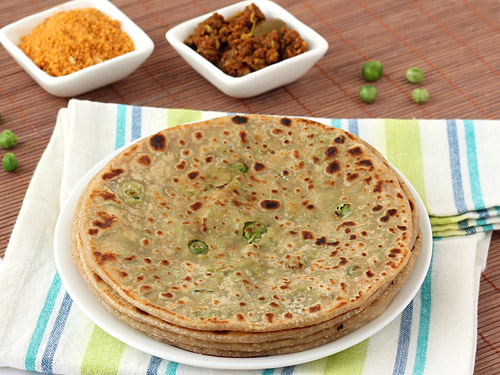 More Healthy Recipes
Preparation Time:
15 minutes
Ingredients:
1¼ cups + 1/2 cup Wheat Flour
1 cup Green Peas (fresh or frozen)
1-2 or to taste Green Chillies, chopped
2 tablespoons chopped Coriander Leaves
1/2 teaspoon Cumin Seeds
1 small Onion, finely chopped
1/2 teaspoon grated Ginger
3 Cloves Garlic, crushed
1/2 teaspoon Coriander Powder
1/2 teaspoon Garam Masala Powder
1/2 teaspoon Lemon Juice (fresh)
Salt
1 tablespoon Oil + for shallow frying
Butter, as required (optional)
Directions:
Take 1¼-cups wheat flour, 1/2-tablespoon oil and salt in a large bowl with a wide mouth. Add enough water (in small quantities) and bind smooth and soft dough as you do for any other paratha or roti. Cover it with a muslin cloth and leave aside for 10-15 minutes and in the meantime, prepare the stuffing..

Boil green peas in salted water until soft in a pan. It will take around 7-8 minutes. Drain them and keep aside. Add a pinch of sugar while boiling so that it does not loose its tempting green color.

Crush boiled green peas with green chilli and coriander leaves in a food processor or blender until medium coarse texture.

Heat 1/2 tablespoon oil in a medium size pan. Add cumin seeds and allow them to sizzle. Add chopped onion, grated ginger, crushed garlic and sauté over low flame until onion turns transparent, approx. 2-minutes.

Add crushed green peas, coriander powder, garam masala powder and lemon juice. Mix well and cook for couple of minutes. Turn off flame and let it cool for 5-6 minutes.

Now take some rest and wait for 15 minutes to get over (if you have managed to complete steps 2,3,4 and 5 in less than 15 minutes!), knead the dough again. Divide stuffing and dough each into 5-equal portions and make balls from them. Take each dough ball, press it a little to give a shape of pattie.

Flatten it using your palms into approx 3-inch diameter bowl shaped disc or roll it out into a circle (3-inch diameter).

Place one stuffing ball in the middle and wrap with all sides.

Pull all edges upwards and seal them where they meet in the center. It will result in a ball like shape.

Take 1/2 cup wheat flour in a flat plate for coating and dusting dough balls. Put stuffed ball in it and press a little, coat its upper surface with dry wheat flour and transfer it to rolling board.

Roll it out into 1/4 inch thick circle having about 6-7 inch diameter.

Heat tava over medium flame. When it is medium hot, place rolled raw paratha over it and cook until small bubbles appear on top. Flip and spread 1/2 teaspoon oil evenly around its circular edge and shallow fry both sides until light golden brown spots appear on them.

Transfer it to serving plate and apply butter over it. Repeat the process (step-9 to step-14) with remaining dough and stuffing balls and prepare remaining ones. Serve matar parathas with tomato ketch up or a dip prepared with plain yogurt, mint and coriander powder.
Tips and Variations:
Do not add green chillies if you are preparing it for kids.
You can also prepare stuffing without cooking in step-4 and step-5. Just mix all stuffing ingredients in a bowl and mash them a bit.
If you are in hurry then first prepare the stuffing (steps-2 to 5) and mix it with dough while kneading it again in step-6 and prepare parathas without stuffing.
Taste:
 Mild spicy and soft
Serving Ideas:
 Serve it as a snack with tea or pickle in the evening or with yogurt or curry as a healthy breakfast.