If you are a plum lover, jam lover or simply a food lover, you have got to try delicious plum jam prepared with this recipe. This simple yet yummy fresh fruit jam recipe is best way to make homemade pectin free plum preserve and it tastes much better than ready-made one. Make the most out of sweet and ripe plums when they are in their prime season, prepare its jam and use it all through the year to make breakfast tastier than ever and satisfy your sweet tooth too.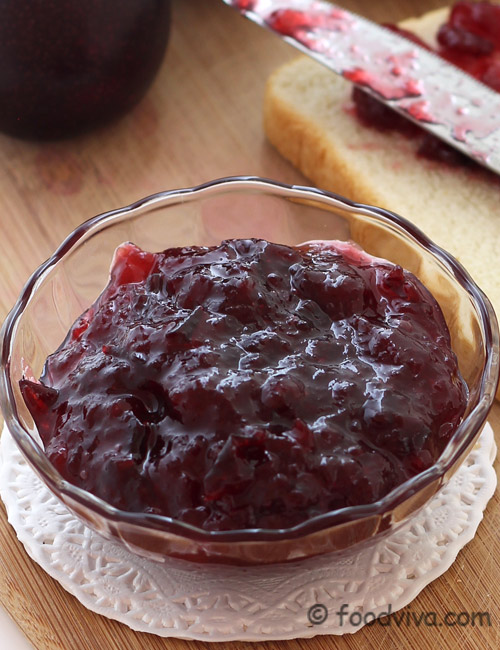 More Jam Recipes
Preparation Time:
10 minutes
Ingredients:
2½ cups chopped Ripe Plums
1 cup Sugar
1½ tablespoons Lemon Juice
Directions:
Wash the plums in running water. Put 1-2 small ceramic plates in the freezer. This plate will be used to check the jam is cooked enough to set or not.

In this recipe, around 1 lb plums (4 regular size plum) are used to get 2½ cups chopped plums. Cut plums into halves and remove the pit. Chop them into small pieces.

Heat plum pieces, lemon juice and sugar in a deep pan over medium heat.

Stir continuously to completely dissolve the sugar, it will take approx. 4-5 minutes. If plums are not juicy enough, add 2 tablespoons water to dissolve the sugar.

Let the mixture cook over medium heat. When it starts to boil, reduce the heat and simmer uncovered until plum becomes soft and tender. Stir occasionally in between to prevent sticking. The color of the plum pieces will turn darker when they cooked.

Cook until mixture turns thick.

Now, remove the ceramic plate from the freezer and place a bit of the jam over it. Again, put this plate in freezer for a minute and then remove from it. Test the jam, run a spoon or your finger through the jam and if it leaves the track clear, it is ready. If it is not, cook again for 4-5 minutes and test again.

Remove pan from heat and allow mixture to rest for 1-2 minutes. Almost 1½ cups jam will be prepared. Plum jam is ready for any time relish. You can store it in an airtight container in refrigerator without canning process or follow the given steps for canning process.

For canning process, pour prepared hot mix into sterilized jar. Leave 1/2 inch space in jar and seal with lids. Process jar for 8-10 minutes in boiling water bath. Let it cool and store in a cool, dark place for long term storage.
Tips and Variations:
This recipe does not use pectin but you can use small amount of pectin to set the jam.
Add grated ginger along with lemon juice and sugar to prepare ginger flavored plum jam.
Taste:
Sweet and mild sour
Serving Ideas:
It can be used as a spread for sandwiches, bread etc. Use it as a spread on sourdough or for making layers in cake.