This peach jam canning recipe without Pectin is very simple – sugared peach pieces are drizzled with lemon juice and then simmered until thick and then jam filled jars are given a boiling water bath! The step by step photos, detailed directions and tips on how to peel skin off easily and how to check whether Jam is cooked or not will help you cook perfect Peach Jam at home in just 30 minutes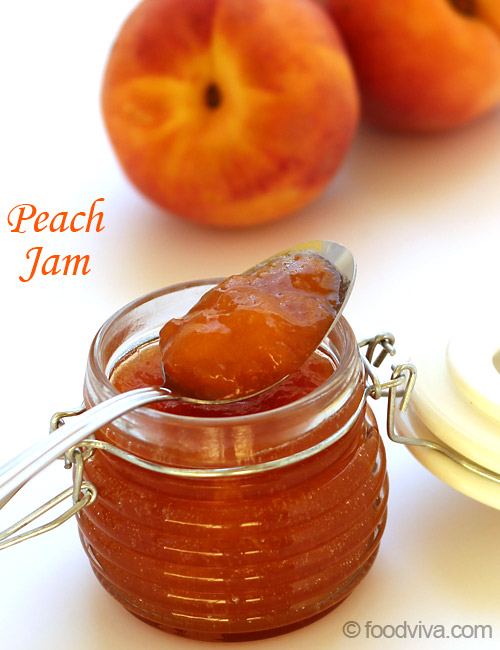 More Jam Recipes
Preparation Time:
10 minutes
Ingredients:
3 large Ripe Peaches (approx. 2 ½ cups chopped)
3/4 cup Sugar
1 tablespoon Lemon Juice
Directions:
Before starting to make the jam, place a ceramic plate in freezer. It will require at later stage to check whether jam is ready or not.

To peel peaches easily, follow this process – fill a deep pot with water and bring it to boil over medium heat. When it comes to rolling boil, add peaches and boil them for a minute.

Remove them from hot water and immediately transfer them to a bowl of ice-chilled water. Keep them in it for 45 seconds.

Drain and wipe them clean. Now you can easily peel the skin. To peel them, take one peach in a hand and start peeling from bottom towards upward using another hand.

Peel all peaches in same manner. If you are not able to peel them easily, repeat the hot and cold water bath process again.

Remove the pit and cut them into small pieces. Transfer peach pieces and sugar in a deep pan and pour lemon juice over it.

Toss and mix peach pieces with sugar in a pan and cook it over medium heat. Stir constantly to dissolve sugar. When it starts to boil, reduce heat to low.

Simmer until peach becomes tender and mixture thickens, approx. 15 minutes. Stir occasionally in between.

If you do not like chunky texture in jam, mash peach pieces with potato masher in the pan while cooking.

As you can see, the mixture starts to turn thick.

Cook it for few more minutes and do the plate test to check whether jam is ready or not. Take out the ceramic plate from freezer and pour little jam over it. Place the plate in freezer again for a minute. Take out the plate again from the freezer and run a spoon or your finger through the jam and check if it leaves the track clear, if yes, then jam is ready otherwise cook it for few more minutes.

Add cinnamon powder and mix well.

Remove pan from heat and rest it for couple of minutes. Fill up sterilized jar with hot jam leaving some head space and seal with lids. Process jars for 8-10 minutes in boiling water bath. Let them cool and store in a cool, dark place. If you do not want to go through canning process, then allow homemade fresh peach jam to cool at room temperature and store it in an airtight container in refrigerator.
Tips and Variations:
Add grated ginger, cinnamon stick and ground cloves along with lemon juice for a nice spicy flavor.
Adjust the amount of sugar according to tartness of peach.
Taste:
Sweet and mild sour
Serving Ideas:
Use this jam as a spread to make sandwiches in breakfast.