Tantalizing chutneys are always welcomed by eat-go-happy taste buds. This peach chutney recipe makes lightly spiced thick syrupy chutney by simmering peaches with vinegar, sugar, jalapeño sauteed onion, ginger and garlic. Also, choosing the right kind of peaches is key to its irresistible taste and texture, choose those that are not too ripe and not too hard.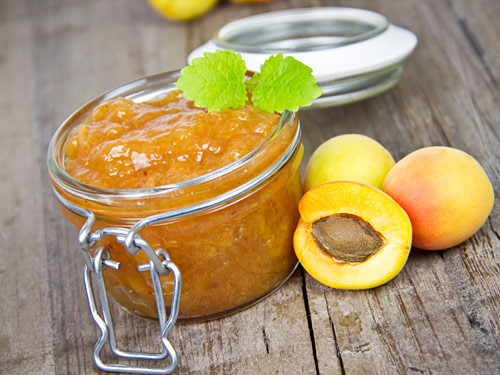 More Chutney Raita Recipes
Preparation Time:
15 minutes
Ingredients:
1 lb (450 gms) Peaches
1/4 cup finely chopped White Onion
1 teaspoon Garlic Paste
1 teaspoon grated Ginger
1/2 teaspoon Mustard Seeds
1/4 cup Golden Raisins
3/4 cup Apple Cider Vinegar
1/3 cup Brown Sugar
Salt to taste
Directions:
Start by choosing fresh and ripe peaches. Do not choose rock hard or over ripe peaches.
Peel and cut them into halves. Remove stone and chop them into small 1/2-inch pieces.
Combine chopped peaches, chopped onion, garlic paste, grated ginger, mustard seeds, golden raisins, apple cider vinegar, brown sugar and salt in a medium saucepan. Stir and cook over medium heat until it starts to boil.
Reduce heat to low and simmer until mixture turns medium thick or for approx. 30-45 minutes. Stir in between occasionally to prevent scorching. If it takes more time, then do not worry because cooking time may vary based on the type of peach and saucepan used.
Turn off heat. Allow mixture to cool for few minutes.
Pour prepared peach chutney into hot, sterilized jar, leaving 1/2-inch of head space. Wipe rim with a clean cloth and apply lids and rings. Process it in a boiling water bath for 15 minutes.
Remove jar from boiling water and place on a kitchen towel. Let it cool at room temperature. When it cools, remove rings and check the seals. Store sealed jar in a cool, dark and dry place up to 6 months. If jar is not properly sealed then store it in a refrigerator and consume within 2-weeks.
Tips and Variations:
Make sure that both chutney and jar are hot while filling for longevity of preserve.
If you want to consume chutney within 2-weeks then boiling water bath is not required.
You can also add any other seasonal fruit like plums, pears, etc in this recipe to make your custom combination chutney.
Taste:
Sweet, spicy and aromatic.
Serving Ideas:
Use canned peach chutney as a spread for sandwiches, wraps, rolls and crackers. This peach preserve can enhance the taste of roasted meat and pork like no other.