Peach freezer jam is a fresh fruit relish that enhances the taste of breads, toasts and muffins. This recipe uses fresh peaches, lemon juice, sugar and pectin (gelling agent) to make sweet and tangy jam. Don't forget to read tips given below to make it a perfect freezer jam.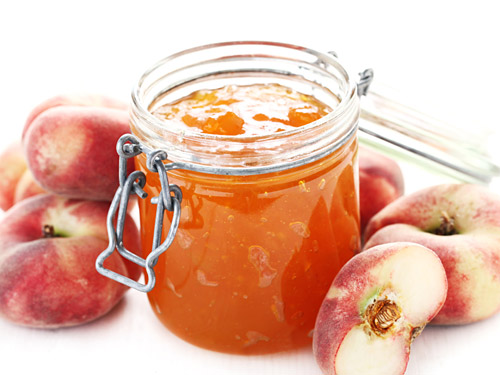 Preparation Time:
10 minutes
Ingredients:
4½ cups peeled and chopped Fresh Peaches (approx. 8 medium peaches)
3 tablespoons Fresh Lemon Juice
1 packet Mrs. Wages® No Cook Freezer Jam Fruit Pectin
1½ cups Sugar
5 jars (8 oz each)
Directions:
Crush chopped peaches with potato masher until you get desired consistency.
Measure out exactly 4 cups crushed peaches. Use remaining fruit for another use; you can prepare smoothie or juice from leftover crushed peaches.
Transfer crushed peaches to a pan and bring it to boil over medium heat. When it starts boiling, remove pan from the stove and transfer crushed peaches to a large bowl. Let it cool at room temperature.
When it cools completely, add fresh lemon juice and sugar. Stir using wooden spatula to dissolve the sugar. Let it stand for 10 minutes. Stir occasionally in between.
Add pectin mixture in a prepared fruit and stir constantly, about 3-4 minutes.
Pour jam into clean jars. Leave 1/2 inch of headspace in jars because it would expand during freezing. Wipe the rim and sides of jars using clean cloth. Cover them with lids.
Let them stand at room temperature for 30 minutes to thicken.
Freezer peach jam is ready. Store filled jars in a refrigerator. It stays good in refrigerator for up to 3 weeks and in freezer for up to 1 year. Once opened, keep it in refrigerator and consume within 3-5 days.
Tips and Variations:
Choose fresh and ripe peaches to prepare this jam.
Add ground cinnamon and rated ginger for a spicy flavor.
Make sure that sugar dissolves completely in crushed peaches. If it's not dissolved completely, then it will crystallize when frozen.
Serving Ideas:
It can be served as a spread with various types of breads, toasts and muffins in the breakfast.