Strawberry Freezer Jam, best fruit jam that retains the taste of fresh strawberries, is a quick and easy to prepare fruit preserve which does not involve cooking and boiling. Learn how to make it with this easy recipe and keep giving treat to your sweet tooth through the year.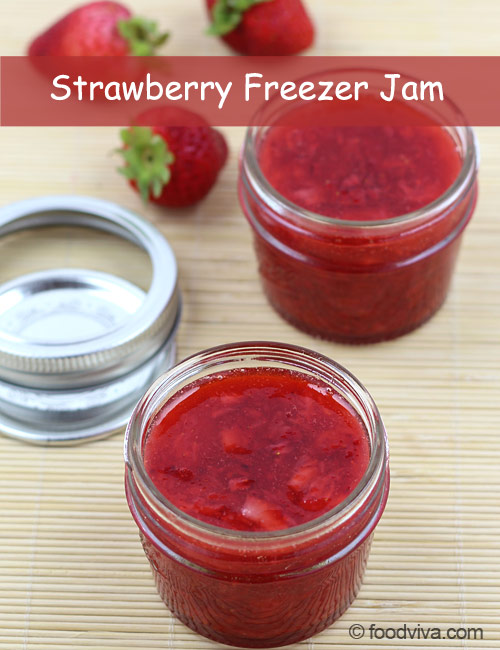 More Jam Recipes
Preparation Time:
15 minutes
Serves:
2 (4 oz) containers
Ingredients:
3/4 cup crushed Strawberry
1 tablespoon Ball® RealFruit™ Instant Pectin
1/3 cup Granulated Sugar
2 (4 oz) containers
Directions:
First start by washing the freezer proof glass containers or plastic containers and dry them.

In this recipe, instant pectin of Ball brand is used. Jam prepared with this pectin requires less sugar compared to other brands like Sure-Jell.

Choose red and ripe strawberries. Wash and drain them.

Remove stem and cut into halves.

Mash using a potato masher or finely chop them in a food processor until you get the consistency of your choice, keep some chunks for better texture and taste. Don't make a smooth puree mixture.

Take 1/3 cup sugar and 1 tablespoon pectin in a bowl.

Stir well using a spatula.

Add crushed strawberries.

Stir well using a whisk for 3 minutes (no less time).

Ladle jam into clean and dry containers, leaving 1/2 inch head-space for expansion during freezing. Clean the rim and sides of containers and place the lid over containers. Let them stand at room temperature for 30-minutes. Store them in a refrigerator up to 3 weeks or store it in freezer for up to 1 year. After opening the jar, keep it in refrigerator and consume within a week.
Tips and Variations:
To make jam in large quantity (4-4oz container), use 1 & 2/3 cup fruit, 2 tablespoons pectin and 2/3 cup sugar.
The key to make perfect jam lies in perfectly measured ingredients as per the quantity mentioned above.
Use perfectly ripe strawberries to make a flavorful jam.
Taste:
Sweet and natural taste of strawberry
Serving Ideas:
Garnish ice cream with it or add it while preparing milk shake to get delicious strawberry flavor. Use it as a spread with breads, sandwiches etc.