Aamras, a ripe mango puree, is a popular sweet cum dessert enjoyed during the months of Summer and it is one of the very easy to prepare dessert at short notice – just crush ripe mango pieces, few ice cubes, milk and couple of spoons of sugar in a mixer and your treat is ready. Add kesar (saffron) or cardamom powder and it will take your taste buds on a journey like never before. This step by step photo recipe of aam ras recipe recommends using Alphonso or Kesar mango but you can use any type of ripe mango you have at your hand.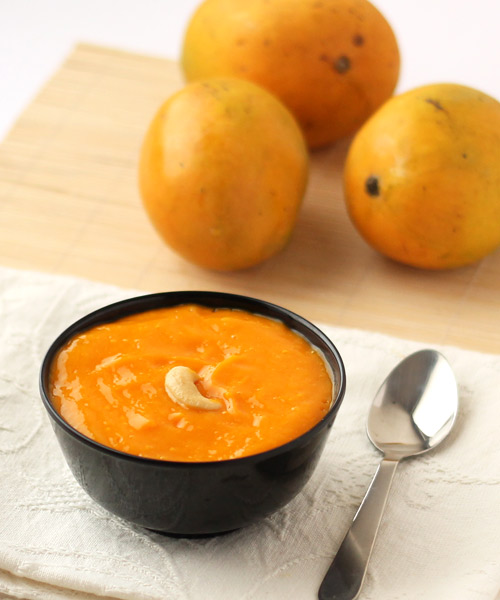 More Dessert Recipes
Preparation Time:
5 minutes
Ingredients:
3 small or 2 large Ripe Mango (approx. 500 gm)
2 teaspoons Sugar or to taste
1/3 cup Water or Milk (or 6 ice cubes)
Cashew Nuts, for garnishing (optional)
Directions:
Choose ripe mangoes. We have used Alphonso mango in this recipe but you can use any other type of ripe mangoes. Wash and pat dry the mangoes. Peel them and cut into small pieces as shown in the picture. Discard the stone.

Transfer mango pieces and sugar into the blender jar of a blender or a mixer grinder.

Blend until smooth puree. Add 1/3 cup water or 5-6 ice cubes and blend again for 1-2 minutes.

Transfer it to the serving bowl and garnish with cashew nuts. Serve it with

potato bhaji

and

masala poori

. You can also add a teaspoon of ghee and a pinch of sonth powder (dry ginger powder) while making mango puree to give it a traditional Gujarati touch.
Tips and Variations:
Taste the mango before making the aamras. If it is sour then add more sugar in step-2.
To preserve the mango for a year, chop the mango into pieces and freeze it in zip lock bag for up to a year and enjoy the mango ras in off-season. If you are using frozen mango then thaw mango cubes in refrigerator before making mango puree. Do not choose over ripe mangoes for storing it into freezer.
Add 1/8 teaspoon cardamom powder or kesar along with sugar in step-2.
Serving Ideas:
 Serve it with puri and curry on special occasions or serve it with phulka roti, curry, dal and steamed rice in lunch as a complete healthy meal during mango season.