Mango Shake (Mango Milkshake) is a cool and tempting fruit drink prepared by simply blending ripe mango pieces, milk and sugar. To keep things simple and easy, this recipe primarily explains how to make mango shake with milk. However, for those who are looking for something different, there are few tips and serving ideas mentioned below which can simply make it a divine experience in every sip.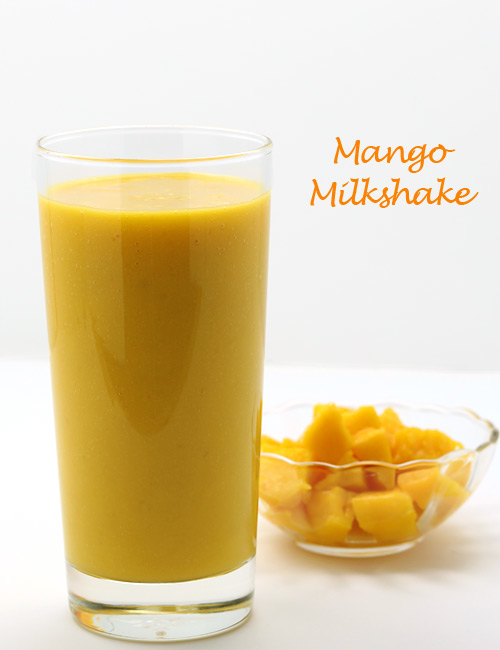 More Mango Recipes
Preparation Time:
5 minutes
Ingredients:
2 large Ripe Mangoes(approx. 2 cups chopped mango)
1½ cups Milk
1½ tablespoons Sugar(or to taste)
2-3 Ice Cubes, optional
Directions:
Wash, peel and chop mangoes into small pieces, discard stone. Transfer them to a blender jar.

Add milk, sugar (to taste or according to sweetness of mango) and ice-cubes.

Blend until smooth and creamy and there are no mango chunks in it. Pour prepared shake into serving glasses, garnish with almonds and scoop of ice cream and serve.
Tips and Variations:
For thick shake, keep chopped mango pieces in freezer for 20 minutes and don't add ice-cubes.
Add less milk for thick shake and add more milk for thin shake.
Top it up with 1 large scoop of vanilla ice cream and few cashew nuts for mango shake with ice cream experience.
Use top quality mango which has lot of flavor and less fibers for smoother shake. We recommend using alphonso for best experience.
If fresh mangoes are not available, use readymade mango pulp or frozen mango cubes which are easily available in Indian Stores.
Serving Ideas:
It is such a delicious drink on its own that it rarely requires any add on. However, topping it with vanilla ice cream or addition of chilled mango cubes makes it simply irresistible. Or even better, simply mix some cashew nuts in it after blending for an out of the world chewy experience. It is a perfect drink to beat the summer heat and enjoy the best of the best mangoes.