Mango Falooda, a north Indian style real mango flavored chilled beverage cum dessert, is the best way to welcome and enjoy the annual Mango season. Its multiple layers of falooda sev, sabja seeds, mango pulp, sweet custard milk, chopped mango pieces topped with scoop of ice cream and dry fruits makes it a tempting dessert that you can eat as well as drink. In addition to how to assemble this delicious and inviting dessert, this step by step photo recipe of Mango Falooda also explains how to prepare falooda sev, sabja seeds, sweet custard milk, etc and provides tips to customize it to your preference.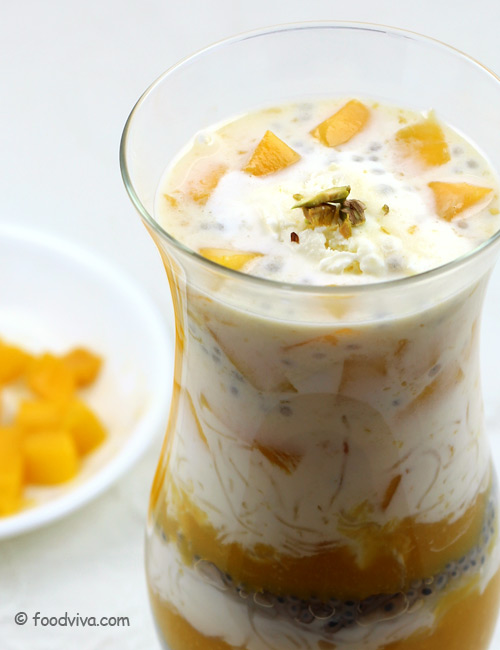 More Dessert Recipes
Preparation Time:
35 minutes
Ingredients:
1/2 cup cooked Falooda Sev (corn vermicelli)
2 teaspoons Sabja Seeds (takmaria)
1/2 cup Mango Pulp (or mango puree)
1/2 cup Chopped Mango
1½ cups Milk
2 teaspoons Custard Powder
1½ tablespoons Sugar
2 scoops Vanilla or Mango Ice-cream, for serving
1 tablespoon chopped Mixed Dry fruits, for garnishing
Note:
In this recipe we haven't used mango custard and mango jelly to keep it simple. However, you can add them to enhance its flavor and texture. If you are using mango custard, do not add custard powder in milk in step-1.
Directions:
Dissolve custard powder in 2 tablespoons milk. Transfer remaining milk into the pan, add sugar and bring it to boil over medium flame. When it starts to boil, add milk-custard powder mixture and stir constantly with a spoon and cook until raw smell of custard powder goes away; it will take around 5-7 minutes. Turn off the flame and pour milk into a large bowl. Let it cool down to room temperature and then place it in the refrigerator to chill for 1-hour.

Grocery stores carry two types of falooda sev (corn vermicelli); yellow and white. You can use any one of it based on the availability and your preference.

Cook the falooda sev according to the instructions given on the package or follow the step-2 and 3 given below.

Boil approx. 2-3 cups of water in a deep pan over medium flame. When it comes to rolling boil, add approx. 1/3 cup falooda sev and cook until it turns soft. It will take around 4-5 minutes.

Transfer cooked sev to a fine mesh strainer (or a sieve) and drain excess water. Pour 1 cup of cold water over it and drain it to stop further cooking.

Soak 2 teaspoons sabja seeds in 3/4 cup water for 30 minutes. After 30 minutes, transfer them to a sieve and drain the water.

Assemble all ingredients required to make the falooda. We have used the fresh mango puree to enhance the flavor. However, you can use canned mango puree as its replacement.

Take two serving glasses. Add 1-tablespoon sabja seeds and 2 tablespoons mango puree in each glass.

Add 2-tablespoons falooda sev and again add 1-tablespoon sabja seeds.

Add 2-tablespoons mango puree, 2-tablespoon mango cubes and pour 1/2 cup milk prepared in step-1 in each glass.

Add a scoop of ice cream and garnish with dry-fruits.
Tips and Variations:
You can change the amount of sev, sabja seeds, milk and mango puree based on your preference and taste. However, don't add too much sev or sabja seeds in falooda as it will reduce the sweetness.
Add mango jelly and mango custard in falooda to enhance the flavor.
Increase or decrease the amount of sugar in milk to make it as sweet as you like it to be.
Serving Ideas:
 Enjoy chilled mango falooda as an afternoon beverage or dessert.