If you have ever tried having Dosa or Idli in any South Indian restaurant, you would have invariably served with a flavorful accompaniment called curry leaves chutney as its unique taste and specific aroma of curry leaf goes very well with it. Making it at home is simple and easy with this recipe's step by step photo guide – stir fried curry leaves are crushed with fresh coconut, tamarind paste and dal mixture into paste.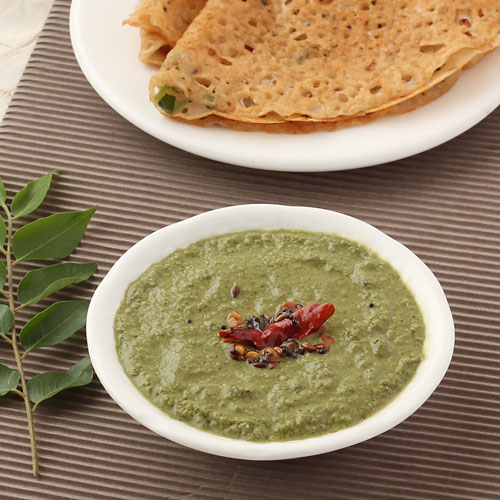 More South Indian Recipes
Preparation Time:
10 minutes
Ingredients:
1/4 cup tightly packed Curry Leaves
1 teaspoon Oil
1/2 cup grated Fresh Coconut
1 teaspoon Urad Dal
1/2 tablespoon Chana Dal
1 Green Chilli, roughly chopped
1/2 teaspoon chopped Ginger
1 teaspoon Tamarind Paste
4-tablespoons Water
1/2 teaspoon Salt or to taste
For Tempering:
1 teaspoon Oil
1/4 teaspoon Mustard Seeds
1/4 teaspoon Urad Dal
1/4 teaspoon Cumin Seeds
1 Dry Red Chilli, halved
A pinch of Asafoetida (hing)
Directions:
Rinse curry leaves in running water, place them on kitchen towel and pat dry them.

Heat 1-teaspoon oil in a small pan over low flame. Add chana dal and urad dal and roast until they turn light brown.

Add cleaned curry leaves.

Roast leaves until all moisture evaporates and leaves turn dry, approx. 2-3 minutes. Turn off the flame and transfer to a plate. Let them cool for 4-5 minutes.

Place all the cooled ingredients along with, grated coconut, grated ginger, green chilli, tamarind paste and salt in the chutney jar of a grinder.

Grind them to a medium coarse paste. Add approx. 4-tablespoons water and grind again until smooth and thick paste.

Transfer it to serving bowl. Heat remaining 1-teaspoon oil in a small tempering pan over medium flame. Add mustard seeds; when they start to crackle, add urad dal and stir-fry until it turns light brown in color. Add cumin seeds, asafoetida(hing) and dry red chili, fry for 30-40 seconds. Turn off flame and pour tempering mixture over prepared chutney. Curry leaves chutney is ready.
Tips and Variations:
Change the amount of water while grinding chutney (in step-5) to make it thick or thin per your needs and preference.
Make sure that curry leaves do not turn brown while roasting (in step-4) as it will ruin the taste.
Curry leaves are known as kadi patta in Hindi and karuvepillai in Tamil language and this chutney is also known as karuvepillai chutney and curry leaves thogayal.
Taste:
 Mild spicy and tangy