Kara chutney (Vengaya chutney), a south Indian style chutney of onion and tomato prepared with this recipe has nice spicy and tangy taste that can make your taste buds tingle in first dip itself. In this recipe, the sautéed onion-tomato and tamarind paste are first pureed with sautéed chana dal and then it is topped with tempering of urad dal and curry leaves. The red chillies bring its signature spicy taste while tamarind gives tangy twist.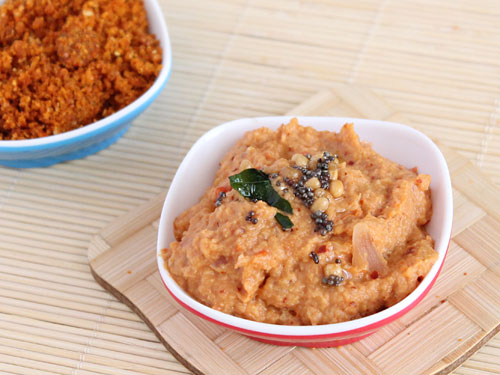 More Chutney Raita Recipes
Preparation Time:
5 minutes
Serves:
3 servings (1/3 cup)
Ingredients:
2 medium Onions or (8 small onions)
1 medium Tomato
2 teaspoons Chana Dal (Split Bengal Gram)
2 Dry Red Chillies
1/4 teaspoon Tamarind Paste
1½ tablespoons Oil
Salt
For Tempering:
1/2 teaspoon Mustard Seeds
1/2 teaspoon Urad Dal (Split Black Gram)
1 sprig Curry Leaves
2 teaspoons Oil
1 pinch Asafoetida
Directions:
Finely chop tomato and onions. Heat 1 tablespoon oil in a medium size pan. Add chopped onion and sauté until it turns translucent or for approx. 2-3 minutes.

Add chopped tomato and salt; cook over low flame for approx. 3-4 minutes or until tomato pieces turn tender and mixture turns thick. Transfer to a plate.

Heat 1/2 tablespoon oil in the same pan. Add chana dal and dry red chillies; sauté until dal turns light brown. Take away pan from heat and let sautéed dal-chilli cool for few minutes.

Grind dal-chilli-mixture in a grinder or food processor until medium coarse powder.

Add sautéed onion-tomato mix and tamarind paste; grind to a smooth paste and transfer to serving bowl.

Heat 2 teaspoons oil in a small tempering pan. Add asafoetida, urad dal and mustard seeds. When seeds begin to crackle, add curry leaves and sauté until urad dal turns light brown.

Pour prepared tempering over chutney in a bowl. Kara chutney is ready for serving as a condiment for idli/dosa.
Tips and Variations:
Make sure that chana dal doesn't turn dark brown while sautéing otherwise it will ruin the taste.
Add chopped garlic and chopped ginger while sautéing chana dal for a nice flavor.
This recipe sautes onion so that its raw smell doesn't shadow other flavors in prepared chutney. However, If you like raw smell of onion then prepare it without sautéing onion.
Serving Ideas:
Serve this tangy and spicy south Indian style kara chutney as a dip or condiment for rava Idli, rava dosa, paniyaram or any other south Indian dish of your choice.