This south Indian tomato chutney for dosa and idli will leave your taste buds asking for more. Its amazing taste, texture and flavor is like heaven on earth as sautéed garlic and mustard seeds tempering accentuates the taste of tomato, onion, coconut and dal while curry leaves brings its own nuances too.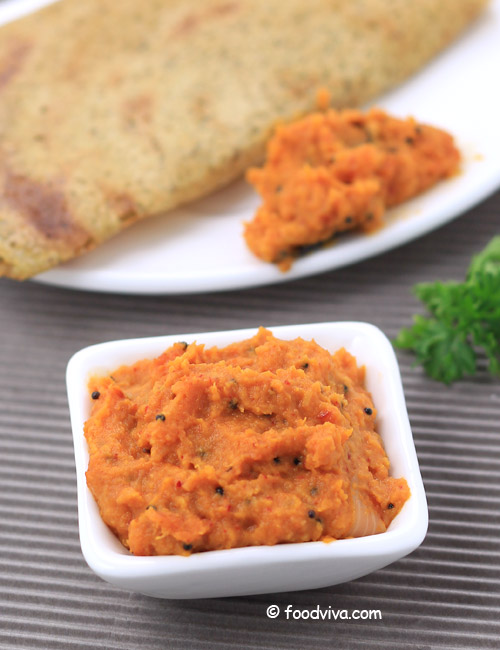 More South Indian Recipes
Preparation Time:
5 minutes
Serves:
2 servings (1/2 cup)
Ingredients:
2 large Tomatoes, finely chopped (approx. 1 cup)
1 medium Onion, finely chopped (approx. 1/2 cup)
3-4 Garlic cloves, finely chopped
1-2 Dry Red Chillies (to taste)
1/2 tablespoon Chana Dal (Split Bengal Gram)
1 tablespoon grated Dry or Fresh Coconut, optional
1/4 teaspoon Mustard Seeds
6-7 Curry Leaves
1 tablespoon + 1 tablespoon Cooking Oil
Salt to taste
Directions:
Heat 1 tablespoon oil in a small pan or a kadai over medium flame. Add chana dal and sauté until it starts to turn light brown and nice aroma releases. Add dry red chilli and saute for 10-12 seconds.

Add chopped onion and chopped garlic.

Sauté until onion turns transparent.

Add chopped tomatoes and salt.

Stir and cook until tomatoes turn soft and oil starts to separate or for approx. 3-4 minutes. Turn off the flame and allow the mixture to cool at room temperature for few minutes.

Add cooled chutney mixture and grated coconut in the small jar of a grinder.

Grind it to the smooth paste.

Wipe the previously used pan with a paper napkin before using. Heat 1 tablespoon oil in the same pan. Add mustard seeds; When they start to crackle, add curry leaves.(Do not add mustard seeds until oil is hot enough. Also add curry leaves in it only after seeds start to crackle). Add chutney paste.

Mix and cook for 2-3 minutes. Tomato onion chutney is ready; serve it with steamed idli or paper dosa or

moong beans dosa

.
Tips:
You can store it in airtight container for up to 3 days in refrigerator.
Use red, ripe and less sour tomatoes for a perfect taste and tempting red color.
Cook onion properly until light brown so that its raw smell does not affect the taste and flavor.
Add 1 teaspoon grated jaggery if you like it to be a bit mild sweet and tangy.
Serving Ideas:
Serve this onion tomato chutney as an accompaniment or dip with chapati, curry, dal tadka and steamed rice.
Idlis
, dosas, appam, etc. taste best when served with this chutney.