Tomato Chutney (tamatar ki chutney), a finger licking good tangy and spicy chutney made with tomato and other basic Indian spices is a must have dip for chips, rava dhokla, vegetable kabab, nachos, etc. It is a great accompaniment to experiment and make new serving pairs with various types of snacks and side dishes. In this recipe, you can learn how to make it in few easy steps as well as discover various ways to customize it to your needs by following tips and variations.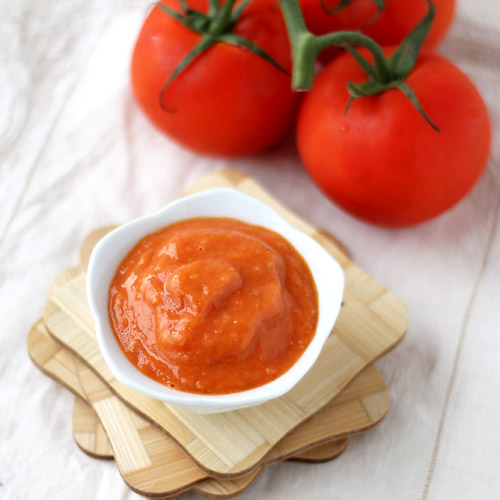 More Tomato Recipes
Preparation Time:
5 minutes
Serves:
2 servings (approx. 1/2 cup)
Ingredients:
2 medium Red Tomatoes, finely chopped
1/4 teaspoon Cumin Seeds
1-2 Garlic Cloves, finely chopped
1/2 Green Chilli, finely chopped
1/2 teaspoon grated Ginger
1 teaspoon Sugar (optional)
1 teaspoon Cooking Oil
Salt to taste
Directions:
Heat cooking oil in a non-stick pan over medium flame. When oil is medium hot, add cumin seeds, chopped garlic, chopped green chilli and grated ginger and sauté for a minute.

Add chopped tomatoes, sugar and salt to taste.

Cook over low flame until tomatoes turn tender and mixture turns thick or for approx 6-7 minutes. Stir in between occasionally to prevent sticking.

Turn off flame and allow mixture to cool at room temperature.

Transfer mixture to the small jar of a grinder and grind to smooth paste. Tangy and spicy Indian tomato chutney is ready to serve with sandwich and dosa, serve or store in refrigerator.
Tips and Variations:
Adjust amount of sugar according to sourness of tomatoes to get desired sweet and sour balance.
Crush tomatoes instead of chopping them to prepare smooth textured chutney.
Add the tempering of mustard seeds, cumin seeds and curry leaves after making the chutney in above mentioned recipe to make red tomato chutney for dosa.
If you like the chunky texture then do not grind the mixture after cooking.
This Indian chutney can be used for up to 4-5 days if stored in an airtight container in a refrigerator.
Serving Ideas:
It is a great accompaniment to be served with steamed rice, chapati and curry. It can also be used as ingredient for preparing tomato rice, a very popular rice dish in south India. Since this chutney can provide natural tempting red color and impart spiciness, many veg and non-veg curry recipes uses it as a base ingredient.