Tomato pasta is one of the most popular pasta and it requires best tomato sauce. This tomato pasta sauce recipe is specifically crafted to make flavorful pasta which has just right amount of spicy, tangy flavorful taste. Follow this recipe and transform your normal pasta into scrumptious one.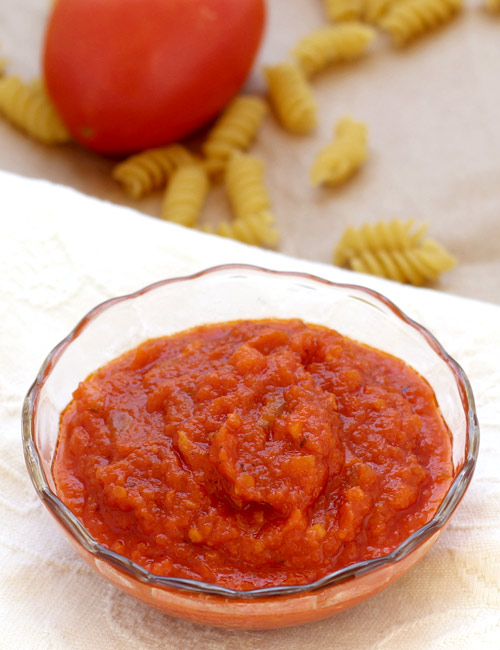 More Sauce Recipes
Preparation Time:
10 minutes
Ingredients:
6 large Ripe Tomatoes

(approx. 2 cups Tomato Puree)
1/4 cup finely chopped Red or White Onion
1 Garlic Clove, finely chopped
A small piece of Carrot, optional
1/4 teaspoon Red Pepper Flakes
1/4 teaspoon Dried Basil and Dried Oregano (Italian Seasoning)
1 teaspoon Sugar
1/8 teaspoon Ground Black Pepper
2 tablespoons Olive Oil
Salt to taste
Directions:
Blanch the tomatoes and make tomato puree by following

this step by step recipe

. If you like, you can remove the seeds from blanched tomatoes before making tomato puree.

Heat 2-tablespoons olive oil in a deep saucepan over medium heat. If possible, use deep saucepan because sauce will splatter while cooking at later stage. Add chopped onion and chopped garlic. Cook over medium heat until onion becomes translucent.

Pour in prepared tomato puree and a piece of carrot. Carrot is added to reduce the sour taste.

Mix properly and cook over medium heat for 5-7 minutes. Keep stirring at regular intervals in between to prevent sticking. Add red pepper flakes, dried basil and dried oregano.

Stir with a spatula and let it cook for another 8-10 minutes or until the sauce becomes thick. Add ground black pepper, sugar and salt.

Stir thoroughly and cook for 1-2 minutes. Remove the piece of carrot from the sauce.

Turn off the heat. Tomato sauce for pasta is ready.
Tips and Variations:
Adjust quantity of oregano and basil according to your taste.
To make tomato pasta, add 3-4 tablespoons (approx. 1/4 cup) prepared pasta sauce for a cup of boiled pasta.
You can add 1 teaspoon chopped fresh basil and 1 teaspoon chopped fresh oregano instead of adding dried basil and dried oregano in this recipe.
Taste:
Spicy and tangy taste of tomato with mild flavor of garlic and olive oil.
Serving Ideas:
Apart from making delicious pasta, it can also be used as a spread for pizza and as a dip for nachos.