Velveeta Nacho Dip Recipe
Velveeta nacho dip prepared with this recipe is not only creamy and cheesy but also has a nice flavor of cilantro and pepper. The butter sauteed garlic, onion and tomato gives it a spicy, tangy and flavorful touch, making it one of the best cheese dips. Follow this recipe and discover how easy it is to make it and how scrumptious it is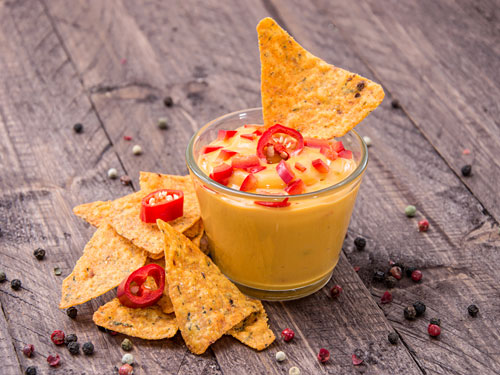 Preparation Time:
5 minutes
Ingredients:
1 cup Velveeta Cheese (cut into 1/2 inch pieces)
1½ cup finely chopped Fresh Tomatoes
1 small Onion, finely chopped
1 Green Chilli, finely chopped
1 Garlic clove, finely chopped
Red Hot Pepper to taste
2 tablespoons finely chopped Fresh Cilantro
Salt
2 tablespoons Butter
Directions:
Heat 2 tablespoons butter in skillet. Add chopped onion and sauté until it turns translucent.
Add chopped garlic and green chillies, mix well and sauté for few seconds.
Add chopped tomatoes and salt and cook over medium heat until tomatoes become tender, approx 4-5 minutes. Stir in between at regular intervals.
Turn off heat and let it cool at room temperature.
Transfer it to a blender and blend until smooth. Again transfer back to skillet.
Add Velveeta cheese and cook over low heat until it melts.
Add red hot pepper to taste and fresh cilantro. Stir and mix well.
Turn off heat and transfer prepared Velveeta nacho cheese dip to a serving bowl.
Tips and Variations:
You can also use canned tomatoes instead of fresh ones for ease of preparation.
Serving Ideas:
Serve it with chips, nachos or tortilla.